Kitchen wastes could be harmful and also be essential. Kitchen wastes are one of the many things that when wielded in the right process, will create a positive impact. If you own a garden you probably have made a research about fertilizers to use to keep the soil in a good condition and to keep the plants healthy.
Surprisingly, the many things that come from the kitchen that we dispose of are great ingredients for plants and soil. Using kitchen wastes as fertilizer is a good thing. You get to avoid using fertilizers that contain chemicals and instead use the natural fertilizer that you can make by yourself at your convenience.
There are a lot of kitchen wastes you can get in just a few days. But how do you keep them? This is where the need for a compost bin comes in; a container where you can pour all the wastes to compost after a while.
7 Best Compost Bin For Kitchen Reviews
Out there are many fertilizers to choose from, be it natural or chemical. But isn't it great to know that you can make your fertilizer and soil nutrients from the very things you dispose of and pay no attention to? You get to save money and even make one of the many nutritious ingredients for the soil which in turn provides you with flourishing plants.
When you realize the importance of composting and want to begin composting either to help reduce the negative impact of waste on the environment or to start using it as nutrients for the soil and plants, you need a compost bin. Somewhere to put all the wastes in for the composting process.
There are many wastes you can generate from your kitchen. What bin do you need? This part will list some of the best compost bins for the kitchen that you can choose from.
1
NEW OXO Good Grips Easy-clean Compost Bin
The NEW OXO compost bin is one of the best.
Capacity: Its capacity is about 6.62 liters (1.75 gallons). Whether you use it with compost bags or not it's good to go.
Lid: It's designed with a removable stay-open lid that makes it easy to empty the content in the bin. The odor stays inside though oxygen flows through the lid.
Design: It's a good design with a glossy touch. It has a convenient handle that makes it easy to move. It is designed with an internal removable bucket that makes cleaning easy.
Key Features:
Removable lid
Stay-open lid
6.62-litre capacity
Durable
Convenient handle
Specification:
Brand: OXO
Model: 13273400
Pros
Smooth interior for easy cleaning
The removable lid makes it easy to empty content
Keeps in odour
Easily sits on a countertop
2
EPICA Stainless Steel Compost Bin
This stainless steel design compost bin is resistant to rust and doesn't leak. It is convenient and easy to use.
Lid: The lid is airtight and the activated charcoal filter keeps in the odor.
Filter: The charcoal filter is replaceable and can easily be cleaned.
Durability: This bin is made out of quality materials, is durable, and will last for a long time.
Uses: It can be placed on countertops. It fits different kitchen decorations. It is wide enough to hold waste for days.
Key Features:
Airtight lid
Replaceable charcoal filter
Durable
Big capacity
Resist rusts
Specification:
Brand: EPICA
Model: SYNCHKG123584
Pros
Easy to wash
It won't leak nor rust
Keeps in odour
Fits with different decor
Balances on countertops
3
BelleMark Kitchen Compost Bin
This is one beautifully designed compost bin. It goes well with any interior decor.
Materials: It is made with acacia wood and a stainless steel container that sits comfortably. It has a notched wood design that makes it easy to slide out the stainless bin for emptying and cleaning.
Capacity: The steel is resistant to rust, easy to clean, and has a 1.6-gallon capacity.
Lid: The lid is very secure. It keeps in the odor and doesn't attract pests.
Key Features:
Attractive design
Smell proof and rustproof
Durable
Firm lid
Notched wood design
Specification:
Brand: BelleMark
Model: B0896WKZMG
Pros
Easy to clean
Doesn't leak
Doesn't attract pests or flies
Lightens the look of the Kitchen
Keeps in the smell
4
The Relaxed Gardener kitchen compost bin
This is a very convenient and easy-to-use compost bin. It has a unique feature that makes it easy for you to open it with one hand as you add more waste quickly.
Filter: It has a filter that keeps in the odor.
Plastic Liner Bucket: Inclusively, the plastic liner bucket prevents food waste from having contact with the steel and this means that the bin will never leak and your countertop will remain clean. Thanks to the plastic liner bucket you do not need to buy liner bags. Save yourself the stress and money.
Design: The compact design makes it easy for you to place the bin anywhere that seems fit since it doesn't occupy much space. It is easy to clean and its attractive style fits easily with any kitchen decor.
Key Features:
Plastic liner bucket
Compact
2 carbon filters
Attractive design
Easy access feature
Specification:
Brand: The Relaxed Gardener
Model: 4316249963
Pros
Doesn't leak
Keeps in odour
Doesn't occupy much space
Can be placed on countertops
Easy to clean
5
KaryHome Kitchen Compost Bin
This is another Sturdy kitchen compost bin with unique features. It can be used for different purposes.
Uses: Not only can you use it in the kitchen but also for laundry or even in the bathroom.
Design: You can either hang it or place it on countertops. This bin is suitable for any kitchen design. Either you position it on the wall, hang it on cabinet doors, or under the sink, it is good to go. It's a durable design that is also easy to clean. It is compact and this makes it easy to fit in different places.
Odor: It keeps in odor and doesn't attract pests or flies.
Key Features:
Multipurpose
Compact
Sturdy design
Sliding lid
Specification:
Brand: KARYHOME
Model: B0833S62Q6
Pros
Keeps in odour
Doesn't attract flies
Can either be hanged or placed on countertops
Easy to use
Easy to remove
6
Chef'n EcoCrock Compost Bin
The 3 liters Chef'n compost bin is ceramic. It comes with an inside bucket that can easily be removed to empty the container.
Filters: It features replaceable charcoal filters that absorb odor and keeps in smell.
Clean: It is easy to clean. The inside bucket can be cleaned using a dishwasher while the ceramic can be rinsed using hot water.
Design: It is suitable for countertops and looks good on any countertop design.
Key Features:
2 Charcoal filter(disposable)
Durable
3 litres capacity
Attractive design
Compact
Specification:
Brand: Chef'n
Model: 401-420-120
Pros
Easy to remove inner bucket
Easy to clean
Suitable for countertops
Keeps in smell
7
Full Circle Fresh Air Odor-Free Kitchen Compost Bin
This is another compost bin suitable for the kitchen.
Air Circulation: It's designed to allow air circulation, it keeps in odor and it doesn't attract flies.
Usage: It's easy to use and comes with compostable bags.
Design: With just the press of a button the cover opens. It can be easily cleaned by using a dishwasher.
Key Features:
Multipurpose
Compostable bags
Air circulation
A button to open the cover
Specification:
Brand: Full Circle
Model: FC11301-KW
Pros
Keeps in smell
Can be placed on countertops
Comes with compostable bags that make it easy to empty
Easy to use
Composting
People usually might find it needless to compost or think it requires some hard work to compost however, that isn't the case. Research has shown that about average of the food waste we dispose of is what we could have composted. Composting isn't a costly process nor a process that requires special skills and hard work. It's just the natural way of converting either your kitchen or garden waste into something essential and nutritious for your garden. Just as it requires no special skills to make, it's also easy to make use of.
Composting comes with lots of benefits. By composting, you can reserve resources, and save money, and when it comes to the environment, you can reduce your impact on it.
Why let food waste continue to create a negative impact on the environment when we can stop it and at the same time use it for a good purpose instead?
If you try to compost at home for about 12 months, of the many things you can achieve is to reduce global warming gases. What a good achievement! One of the many things that help the soil and in turn, the plants are natural ingredients. Compost does a lot of good to the soil such as keeping the moisture level, balancing the PH, and even improving the soil structure.
Compost is filled with many of the ingredients that the soil needs which in turn benefits the plants. In the long run, when the soil is rich in nutrition, you can be sure of satisfying and flourishing plants. Rather than getting rid of kitchen wastes, make use of them for a good and beneficial purpose.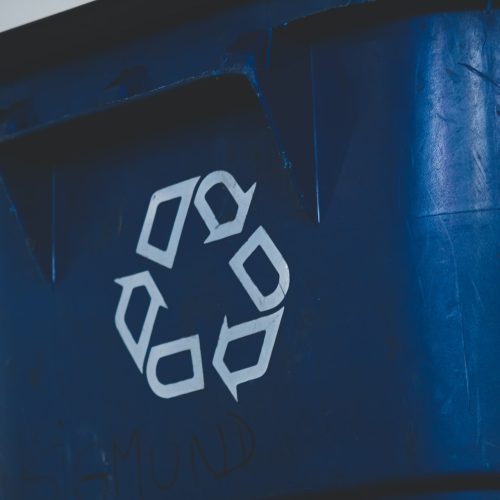 Your decision to compost is a great step. However, keeping kitchen waste requires a bin. There are numerous types of compost bins made from different materials and designed differently. Choosing the right type is indeed paramount. This part will provide answers to questions that are common. This will help you make a good choice when buying a compost bin.
Check out more guides and reviews HERE.
How Do I Choose a Kitchen Compost Bin?
As you know, kitchen wastes are a source of nutrients for soil and plants. Rather than disposing of the wastes that come from your kitchen you can compost and make good use of it. Choosing to compost is a great decision. As you impact the environment, you also get to feed your plants the nutrients that they need if you own a garden.
Choosing the right kitchen compost bin might be the problem. You probably are curious about what you need to keep in mind when choosing a kitchen compost bin. Not all compost bins that can balance on countertops have similar features.
Various things make them differ such as the size, the design, the material used, how well it keeps in odour and many more. This session will provide answers to the things you need to put into mind to select the best kitchen compost bin.
The Size and the Shape
As you look at how much space your countertop offers and how much food waste you generate, note that although small sized compost bins do not occupy much space, the capacity is about less than a gallon and you'll have to empty it frequently.
Compared to large compost bins, they have large capacities (usually more than a gallon) and of course, frequent emptying isn't needed. But such compost bins will demand an odour control system of high quality sit the waste will sit for a longer period.
These countertops bins come in different shapes. The cylindrical shapes are common since they can easily be placed in a corner when there's no need for them. While the rectangular-shaped bins occupy large space but of course, it is very easy and convenient to pour in food waste without making a mess.
Material
If a compost bin isn't made from metal, ceramic or plastic, then it could be made by combining these materials.
Metal Compost Bins
These types of bins are made using materials like stainless steel or aluminium. They are usually easy to clean as you wash them using a dishwasher. They are resistant to rusts. Since metal doesn't hold odour it makes it a good choice for a Compost bin.
Plastic Compost Bins
Plastic compost bins are usually the affordable type suitable for a tight budget. They aren't the heavy type which makes them easy to move. But, they require changing after some years because they aren't durable. And you must wash a plastic compost bin from time to time so that it doesn't gather odour.
Ceramic Compost Bins
These types of compost bins are known for their heavyweight. Compared to plastic compost bins or metal compost bins, ceramic compost bins are heavy. But, for easy and convenient emptying of the content, they often come with an Inside bucket. People often go for the ceramic compost bin because of the attractive artistic design.
Odor Control
All compost bins are designed to keep in odour using a control system. Some models are designed to have holes so that ventilation circulates. But for high-quality bins, they rather have carbon filters or charcoal filters that are replaceable.
Compost bins usually come with extra filters. These filters absorb the smell. After the filtration, the lid which has holes releases air. Some filters are designed to be washed using soap and water so that they can last long. The carbon filters and the charcoal filters, however, need to be replaced every 6 months at maximum and 3 months at a minimum.
The Handles and Lids
Carrying a compost bin requires a handle to make it easy and convenient. The handles are indeed an essential part usually made of tough stainless steel. The lid is also an important part of a compost bin. To be able to open a compost bin using just one hand is an important feature.
While some features such type of design, some are made in such a way that you do not have to open the bin occasionally while you're busy since the lid is designed to lock in an open position.
Aesthetic Design
Do you know what also makes a compost bin a good choice? The look. Compost bins come in lots of designs and styles that you can choose from. Some are designed to fit almost any kitchen decoration. Some compost bins come in different colors, shapes, and designs and this adds a great look to your kitchen as you place it on a countertop or hang it.
How Can I Keep Compost in My Kitchen Without It Smelling?
Knowing that a lot of benefits come with keeping kitchen waste instead of disposing of it, you probably plan on starting the composting process. But, do you feel like your kitchen might be ruined by the smell of the waste from the bin? You're probably wondering what to do to prevent the smell.
First, you should select the right compost bin. There are numerous types either made from metal, ceramic or perhaps plastic. The choice is yours but choosing the perfect type is indeed important to avoid the smell. Such as the one that has a tightly fitted lid, allows airflow, keeps in odour and doesn't attract pests or flies.
Then, select a good area to place the bin such as under the sink. In the compost bin, you can choose to line it with a plastic bag or not. Plastic bags make it easy to pack the waste easily and empty. However, some compost bins have an inner bucket or container that is easy to remove, empty and clean. Therefore, the plastic bag is an option.
Now it's time to fill the bin with waste. Are you making an omelette again? Then pour the eggshells into the bin. Vegetables, fruit scraps, banana peels, and coffee grounds are what you can also pour into your compost bin. Remember that not all kitchen waste should go inside the bin. Things like milk, cheese or bones should not be emptied into the bin.
Here's where a compost deodorizer comes in. Weekly spraying of the deodorizer also helps prevent the compost from smelling. It is recommended as well that you empty the compost in your kitchen bin every week or every 10 days.
Another important step is cleaning the compost bin as well as the lid each time you empty the compost whether you use a plastic bag or not. Most compost bins can be cleaned by using a dishwasher. After rinsing the bin, remember to allow it dry before you return it for use. Following the above things will help you prevent your kitchen from smelling.
Can Dog Poop Be Used in Compost?
Composting requires no special skills nor much effort. It's an easy and inexpensive process. It simply involves converting natural waste into something essential and nutritious for your garden. Dog poop, therefore, can be used in the compost when necessary instructions are followed. Just like composting kitchen waste can play a great impact on the condition of the soil and also provide nutrients to plants, so also can dog poop once composted.
However, many precautions come with composting dog poop which must be followed. Dog poop can rather turn out to be disastrous without these precautions. Improper cleaning of dog poop will result in pollution of water surface and the ground. It can even cause flies or pests to gather around which can pose a threat to the environment, and affect animals or even humans since it can carry infectious diseases.
Some people, misunderstand and believe that dog poop isn't compostable and should not be composted. But the truth is, dog poop is compostable but, it isn't safe to use for vegetation that are supposed to be used. Dog wastes contain bacteria and different parasites as well as worms of different kinds. These things dwell in the soil for several years and that is why dog waste should be kept away from animals and gardens.
But properly composting dog waste can serve as nutrients to trees and also help your yard. Also, once dog waste is properly composted then, the so-called pathogens can be eliminated. As you use the dog poop in compost to serve as nutrients for your plants, keep in mind that you do not use it on plants that are supposed to be eaten.
Do Countertop Compost Bins Smell?
Countertop compost bins can smell but of course, that's avoidable. What you throw inside, the type of compost bin you choose, how often you empty and clean the compost bin and how often you replace the filter are some of the many things that can affect the compost bin.
Let's note some of these things that cause countertop compost bins to smell such as:
The Type of Bin
The type of countertop compost bin will determine if it will smell or not. There are different types of countertop compost bins. They come in different design and comes with different features. Go for the type that is easy to clean and comes with a filter.
If you choose a compost bin that doesn't have a tightly fitted lid and doesn't allow airflow then this will cause it to smell. With the right type, you can avoid the odour.
What Goes Inside
Exactly what you pour in the bin can be the cause of a smelling bin. When you pour the wrong wastes into your countertop compost bin, it will smell so bad. So be careful about what you put in the compost bin. Do not put dairy or meat wastes.
Filter Replacement
How often you replace the filter is another important factor. Whether your countertop compost bin smells or not, it is recommended that you change the filters every 4 months or 6 months at maximum. When you do not replace the filter it could cause the bin to smell.
Empty the Bin and Clean
You should empty the bin frequently to avoid odour. When you frequently empty the bin( every 2 or 3 days) then you can prevent the compost bin from smelling. After emptying the bin make sure to wash it. Most bins are suitable to be washed using a dishwasher. After rinsing it let it dry before you use it again. This is also important to avoid odour.
Countertops compost bin can smell or will even smell if you do not do these little yet important things. It takes such little attention to avoid odour. The above points are some of the important things you can do to prevent the countertop compost bin from smelling. As you follow these important factors, see how you can prevent your countertop compost bin from smelling.
The Contents
No doubt, composting is a simple process. You can simply compost waste and make good use of the result. Wastes that you generate from the kitchen or the yard are easily accessible ingredients that you need to make compost. However, while you throw these wastes in your bin there is a process you should follow.
Your compost bin might start to smell for numerous reasons. When we neglect and fail to pay attention to some things that seem little and not necessary then we might be asking for a smelling bin. Below are some of the things that may cause the compost bin to smell.
The Contents
What you throw in the compost bin can cause it to smell. Meats and dairy aren't suitable to be thrown in the compost bin. Be careful about what goes into the compost bin then you avoid a smelling bin. There should be a balance between the number of greens and browns that goes into the compost bin.
When the amount of greens supersedes then it will produce a bad odour.
Lack of Oxygen
When composting, there should be enough oxygen. The microorganisms as well as the bacteria(aerobic bacteria) that break down the compost ingredients require adequate airflow. Without enough air, the compost will smell real bad. Therefore, the location of the bin is important.
A Location that is very damp or shady does not provide adequate airflow. The things that go into the bin is also a factor that could lead to a smelling bin. Wet materials hinder the flow of air that the compost need. When you avoid these things and make necessary amendments then you sure can avoid smelling compost.
Very Wet Compost
Of course, moisture is essential for proper decomposition. However, when the moisture is too much, the compost will not get enough oxygen causing it to smell. In such a case, add more browns to the compost to absorb the moisture. This will allow adequate airflow and get rid of the smell.
It is indeed one thing to have a balanced amount of greens and browns in the compost bin and it is another thing to have it mixed properly. When these compost ingredients don't properly mix it could cause the compost to smell. The green materials must be properly mixed with the brown materials for a good result. You can mix it by turning it until it's done. Remember that the greens shouldn't be exposed.
So cover the greens by adding a layer of browns. Doing this will help avoid a smelling compost bin.
Composting comes with different benefits. Either you compost to reduce the negative impact of wastes on the environment, or compost for your garden you need a place to pour these wastes. Wastes from the kitchen or your yard need to be thrown somewhere; a compost bin.
If you plan on composting your kitchen wastes, then you need to select a compost bin suitable for the kitchen and if you plan on composting yard wastes you should choose a suitable outdoor compost bin. Either way, you must choose the right type.
This article has included some of the best compost bins suitable for kitchens and has also discussed what you need to know about compost bins. As you use different wastes to make compost, follow the necessary steps to keep a healthy compost.
Also, see
Best Commercial Zero Turn Mowers
Check out more content like this on our website.