If you are an avid gardener and like visiting Walt Disney World in Orlando, Florida, you will want to attend the Flower And Garden Festival at Disney's Epcot Center every year. You can enjoy various vegetation types and learn a few new things about gardening at the festival. In addition, you can enjoy the sites of the amazing gardens and the sculptures of the Disney characters composed of vegetation.
That is something to admire, and you can also visit exotic gardens and fantastic flowerbeds and learn how to grow sustainable food in your garden at the event. Another essential thing you can know when you visit the park is how to live harmoniously with nature.
When Is The Disney Flower And Garden Festival?
When is The Disney Flower And Garden Festival open at Epcot Center? The event occurs annually from March 3rd until July 5th. Therefore, the spring and early summer are when you will be able to enjoy the event.
During the COVID19 era, there are safety protocols in place, and you will want to check back each year to look at its status, which depends on the infection levels.
Disney Flower And Garden Festival At Epcot Center
Find out everything there is to know about more events like this HERE.
You will be in for a treat when you attend The Disney Flower And Garden Festival at Epcot. Not only will you enjoy the colorful blooms, but you will also have plenty of entertainment at the event. You can expect to see Disney characters such as Mickey Mouse and Donald Duck and different characters in each pavilion represented by other countries at Epcot.
For example, you will see Belle along with Beast at the French pavilion, and you will also see Elsa and Anna at the Norwegian pavilion. If you want to see Snow White, along with Dopey, you can see them at the German pavilion.
You can enjoy the perennial flower and garden fun at the Butterly Haven and the English Tea Garden. Kids will also enjoy it as they will enjoy their entertainment, such as the play gardens that light up each night. You can also enjoy some healthy eats as delicious as many food places serve grilled vegetables and meat dishes that you can enjoy with various spices.
You can also enjoy fruity desserts and ice cream, potato pancakes, and other delicious garden-based foods. There will be different entertainment features each year, which you will want to check annually to see if you're going to make the trip to see them.
History Of The Disney Flower And Garden Festival At Epcot Center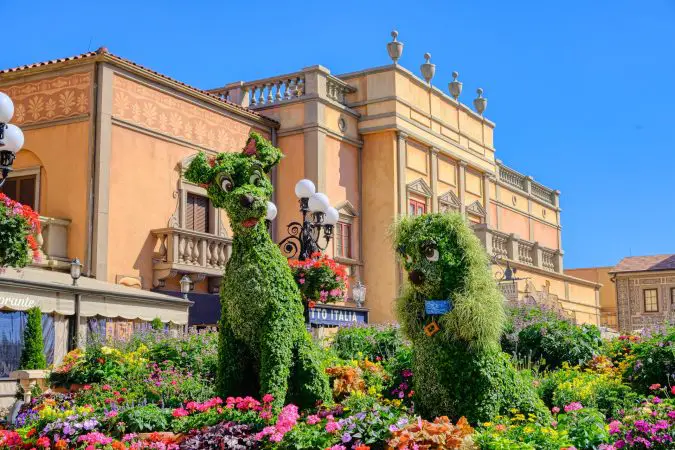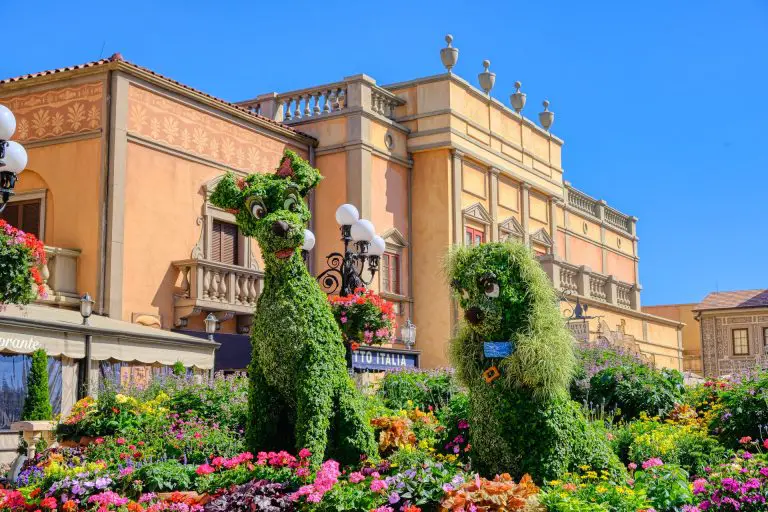 The establishment of the Disney Flower And Garden Festival At Epcot Center happened in 1995 as it began as a new small train and town were on display at the German pavilion. That was known as the Epcot Garden Railway as the area featured flowers surrounding the tracks and buildings. Its popularity of it grew, and the location of the train stayed since it opened.
Why weren't props added until 2015?
There were different props added during some of the festivals to coincide with the other festivals happening at the time. However, there were no significant additions to the festival until 2015. That is because, in 2015, new additions came to the festival, which was Anna and Elsa from Frozen. Goofy was also an addition, and Chip 'n Dale, Miss Piggy, and Kermit the Frog send the message that spring was in the air.
In addition, Fantasia, Farmer Mickey, Minnie, Phineas, and Ferb were newcomers to the festival. Then, of course, you also had Bambi, Snow White, the Seven Dwarfs, the Lion King, Prince Charming, and Cinderella, among many more characters.
As more characters became part of the festival, its popularity grew even more. In addition to that, the Garden Rocks Series started at that time, which was a replacement for the Flower Power Concert Series that happened not long after the festival's establishment.
Which props were added after 2015?
In 2016, Ranger Mickey Mouse joined the crows and Huey, Dewey, and Louie topiary. They were there to celebrate the Floral Fun garden, the National Park Service centennial, and the Fab Five play garden.
Then in 2017, the Figment topiary entered as well as a new garden featuring the Cars movie. Nothing new happened in 2018.
However, in 2019, the Garden Rocks concert expanded further as the show went on nightly. Additionally, Bo Beep and her sheep arrived, and included in that festival for the year was the celebration of Toy Story 4.
In 2020 nothing new happened at the festival as it did not go on because of the Coronavirus pandemic. However, it will expand further in time and will become more exciting as well!
Conclusion
The Disney Flower And Garden Festival at Epcot is an exciting part of the Disney World experience. If you plan to go on vacation to Disney World in Orlando, you will want to not miss out on visiting the Flower And Garden Festival at Epcot.
You will be happy to experience what the festival has to offer, which includes gorgeous garden shows and being in awe by looking at the horticultural creativity as flowers perfectly design' the Disney characters. You can also eat some delicious garden food such as grilled vegetables, fruit desserts, and so much more.
Don't forget about having an enjoyable time at the concerts. Let us know your experience at Disney Flower and Garden Festival.
Take a look at our website to know more about gardening.