Everyone likes a clean and well-trimmed lawn. However, pulling up weeds with your bare hands is stressful and a chore, and sometimes using a lawnmower can take a lot of effort and time. If you're more interested in making little effort and want something easier to use, you should think of getting a gas string trimmer.
Using a gas string trimmer makes it easier to keep your lawn maintained. If you don't have a large lawn or yard or are in need of a more compact option, then you could use a gas string trimmer. Gas-powered models are quite loud, but they are your only option if you need power and high mobility.
If you're in the market for a new string trimmer, you don't have to go through the numerous options that are available on the market; we have collected detailed information that will have you make the right choice.
6 Best Gas String Trimmers Reviews
Below is a compilation of the best gas string trimmers. Having this information will provide you with the knowledge you need to make the best choice.
1
Husqvarna (128CD), Detachable Gas String Trimmer
If you need a reliable and powerful gas string trimmer, then the 128CD model from Husqvarna is worth taking a look at. Husqvarna is a brand that's well known for its reputability and high-quality products, and this model is one of their most popular string trimmer model for residential use.
Weight and Power: This string trimmer is powerful enough to tackle any grass or weed it is used on while still being lightweight, which means you would be able to use it for extended periods without getting fatigued.
It comes with different features that make it more comfortable and easy to operate.
Smart Start System: For instance, it comes with a  that makes it easy to start at all times; it shouldn't take more than a pull or two to get it started.
Air Purge Function: It also comes with an air purge function that gets rid of air from inside the carburetor and fuel system, allowing the engine to start up much easier.
Auto-Return Stop Switch: Another useful function it has is its auto-return stop switch which enables the starter to return to the "on" position automatically, so it will be ready to go again whenever you want.
Controls: This string trimmer has easy-to-use controls; it is not complicated and doesn't require you to be a professional before you can use it. It also comes with different multi-purpose attachments, which makes it a piece of versatile equipment to own.
Design: It also features an ergonomic design that is comfortable holding and adjustable, thus allowing you to find the most comfortable position. Its shaft is also removable, and this makes it easy to store and transport.
String Trimmer: This string trimmer is powerful, versatile, and reliable, so you'll be able to use it for whatever cutting, trimming, and weed whacking tasks you may have.
Price: It also has a reasonable price point.
Key Features:
28cc 2-stroke engine
17-inch cutting width
Air purge
Curved shaft design
T25 trimmer head
Translucent tank
Specification:
Brand: Husqvarna
Model: Husqvarna 128CD Gas String Trimmer
Weight: 11 Pounds
Dimensions: 11 * 11.5 * 63.8 inches
Color: Orange
Pros
It accepts different attachments, which makes it multi-purpose
It features a detachable shaft which makes it easy to store and transport
It has a quick and easy start thanks to its Smart Start system
It offers you great value for your money
It is powerful enough to cut through most weeds and grass
Cons
It may shut down in very thick weeds
It may be too short for taller people because it's a curved shaft string trimmer
2
Poulan Pro PR28SD Gas String Trimmer
Poulan Pro is a reputable brand with seventy years of experience in producing high-quality power tools. They work hard to meet the needs of their customers while maintaining a reasonable price point.
String Trimmer: This string trimmer comes with a 28cc gas engine that allows it to reach high speeds; it also uses a 2-cycle work process which means that the trimmer needs a bit of fuel but will offer you a powerful cutting ability. Also, these types of motors last longer and have fewer breakdowns compared to other models.
Usage: It is easy to use and can be easily maneuvered around your lawn.
Storage: In addition, it is compact, which makes it easy to store without taking up so much space.
Materials: The materials used in making this string trimmer are lightweight, making it easier to use, but it is strong enough to provide you with high speed and power.
Size: This trimmer has a straight shaft and a cutting width of 17 inches, making it perfect for dealing with tough weeds and grass. If you own a small to medium yard, then this string trimmer would serve you well.
Auto-Return Stop: It also comes with additional features such as an easy start mechanism, and an auto-return stop that changes the position to the ON option to shorten the time before it starts cutting. It is also easy to reload the trimmer spool because it doesn't need any extra equipment.
Key Features:
SureFire fuel delivery system
Auto return stop switch
Dual-line feed
Spring-assisted starter system
Air purge
Specification:
Brand: Poulan Pro
Model: Poulan Pro PR28SD
Weight: 14 Pounds
Dimensions: 39.75 * 10.25 * 10 inches
Color: Black and Orange
Pros
It is lightweight
It offers high speed
It features a 2-cycle powerful engine
It is an efficient tool
It is easy to start and clean
Cons
It is not suitable for large areas
3
Ryobi RY253SS 25cc Gas String Trimmer
The Ryobi RY253SS is an affordable, reliable, versatile, and easy-to-use gas string trimmer that is powerful enough to handle any task needed to be done on your lawn.
Engine: The trimmer comes with a 25cc 2-cycle engine which features a full crankshaft that allows the engine to last longer. The engine is easy to start and also reliable.
Attachments: One of the best features of this string trimmer is its compatibility with Ryobi's series of attachments. By getting these extra attachments, you will be able to turn the tool into several other tools that can be used to perform different tasks around your home.
For example, it can be used as a tiller, edger, and blower. Getting the attachments allows you to save money and storage space.
Cutting Width: It has a cutting width of 18 inches which makes it worth the price; it allows you to trim faster, and its straight shaft allows you to reach difficult corners easily.
String Head: It also has a reel-easy that allows you to thread a new line easily.
Key Features:
Full crankshaft engine
Accepts attachments
Straight shaft
2-cycle gas engine
Line diameter of 0.095 inches
18 inches cutting swath
Specification:
Brand: Ryobi
Model: Ryobi RY253SS Gas String Trimmer
Weight: 12.2 lbs (14.27 Pounds)
Dimensions: 11.5 * 24 * 18 inches
Color: Black and Green
Pros
It is affordable
It can be used as other power tools when combines with Ryobi attachments
It has a large cutting swath
Cons
Some users have complained about the cutting head coming loose while being used
The carburetor may have to be changed after a short period of usage
4
Remington RM2560 Rustler Gas Powered String Trimmer
This gas trimmer from Remington is a strong and versatile tool that can be used on both small and large compounds. It features a sleek and comfortable handle. Although this gas string trimmer is easy to use and can be used to cut grass as tall as 16 inches; it has a longer length, ensuring
The RM2560 comes with a straight shaft, which means you can use it to easily clear out difficult-to-reach areas such as around flowerbeds and other parts of your compound. This makes things more convenient for you as you do not need an additional device to cut round edges.
Engine: It comes with a 25cc engine, making it one of the most powerful trimmers available on the market.
Multipurpose: It is also a multipurpose tool; you can transform it into whatever gadget you need simply by changing the head of the equipment.
This model also comes with a fast-starting technology; as you press the button, the trimmers start to work immediately, thus saving you time. It also offers you the option of changing the position of the handle to one that suits you.
Comfort Level: Since it is easy to maneuver, the trimmer doesn't have to be held in a particular position. Instead, adjust it to meet your comfort level and enjoy trimming your lawn.
Key Features:
Straight shaft design
25cc 2-cycle gas engine
16 inches cutting width
Quick start
Adjustable handle
Specification:
Brand: Remington Stores
Model: Remington (Rustler) RM2560
Weight: 14 Pounds
Dimensions: 11.8 * 10.63 * 39 inches
Color: Black and Orange
Pros
It starts quickly
It comes with a 25cc powerful engine
It is able to reach hard corners easily thanks to its shaft
It comes with an ergonomic handle
5
Husqvarna 967175201 Straight Shaft Gas String Trimmer
If you're in search of a commercial string trimmer for difficult tasks but have a reasonable price point, then this model that comes with a 2-cycle engine might be the answer.
Engine: One of its main features is its X-torq engine. The engine works in a way that lets it remove any harmful emissions while making up to 20% improvement on the engine's efficiency, thus saving more money in the long run.
Air Purge Function: It also comes with an air purge function that gets rid of all the air inside the carburetor and fuel system; this ensures that the trimmer starts easily every time, so you won't have to fight to get the engine started.
Controls: It also comes with ready-to-use controls, which make it incredibly easy to use. It also has a simple refill procedure which means that you can spend a longer period trimming your lawn and less time thinking of your tools.
Usage: It is a very comfortable and lightweight tool to use. Its lightweight means that you can spend long hours working on your lawn without feeling tired or developing sore arms.
Price: In addition, even though this trimmer is a high-performance trimmer, it still has an affordable price. So you get a high-quality, professional tool for a lesser price.
This trimmer offers you reliability, solid performance, simplicity, and an affordable price tag
Key Features:
Air purge
X-torq engine
2-cycle engine
Specification:
Brand: Husqvarna
Model: Husqvarna 967175201 Gas String Trimmer
Weight: 17 Pounds
Dimensions: 70 * 9 * 9 inches
Color: Orange and Black
Pros
It features intuitive controls which are easy to understand and use
Its X-torq engine helps to reduce emissions while increasing the engine's efficiency
It is powerful enough to deal with any task
It is lightweight, so you won't get sore arms after using it for long periods
It is suitable for larger and more intensive tasks
Cons
The top of the engine gets quite hot when in use
After starting, it takes a few minutes to warm up
6
Hitachi CG23ECPSL Gas Powered String Trimmer
The Hitachi CG23ECPSL is an environmentally friendly string trimmer. It doesn't matter whether you use it commercially or for private purposes; surely, it would not produce any fumes above the acceptable emission level.
Size: To avoid back strain, this model comes in a length of 69.6 inches, so you'll be able to trim your lawn without bending for stretching.
Anti-vibration Feature: It also comes with an anti-vibration feature, so you can use this trimmer for a long time without getting tired.
Engine: This timmer comes with a 22.5cc engine that allows it to get the job done.
Usage: It is also a lightweight option, so handling this trimmer wouldn't be difficult or stressful.
Key Features:
22.5cc 2-stroke engine
An overall length of 69.6 inches
S start recoil starting system
Anti-vibration system
Specification:
Brand: Hitachi
Model: Hitachi CG23ECPSL
Weight: 10.3 Pounds
Dimensions: 70 * 8 * 8 inches
Color: Red and Black
Pros
It is easy to assemble
It does not vibrate when in use
It is lightweight yet powerful
Cons
The lever is made out of plastic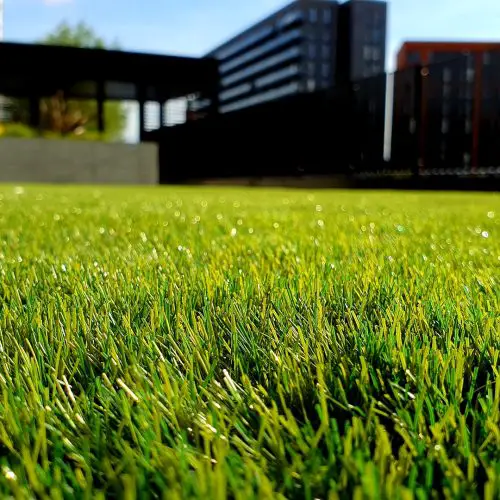 When buying any garden equipment, it is important that you keep some useful buying tips in mind. For example, you would have noticed the sheer amount of gas string trimmers out there; the idea is to buy the best gas string trimmer that will make your life easier and also one that is durable yet affordable.
You need to have proper knowledge of the tool you're getting in order to make the right choice.
What Is a String Trimmer?
You may not be familiar with the name "string trimmer," but you may be familiar with the tool. They go by different names, which include
weed wacker
weed eater
weed trimmer
grass trimmer.
They are all the same tool, just called different names in different parts of the world.
Uses
A string trimmer is used to cut weeds and grass in hard-to-reach areas of your lawn where the lawnmower can't reach. This includes sensitive areas and tight spots you wouldn't want to cause damage to, such as the area around your flowerbed or areas on hardscapes.
A string trimmer uses a sort of string or line to slice through the foilage instead of using a blade.
They feature a long shaft which is known as the cutting head, and the other end is known as the trimmer head. The cutting head is the part of the trimmer where you place the string, and it's the mechanism that performs the cutting.
Is a Gas Trimmer Suitable for You?
There are different kinds of string trimmers apart from the gas option. They include corded electric and cordless string trimmers.
The electric options are much quieter, easier to operate, and safer for the environment than the gas option because they don't produce any emissions. They are also easier to maintain than gas engines.
Advantages
The main advantage of a gas trimmer is power.
They are more powerful than the electric options.
Another major advantage they have is that they are not limited by cords or battery run time. So if you run out of gas while doing your lawn, you could simply top up and carry on with your task; you wouldn't have to wait for a battery to recharge.
Because of these reasons, a gas string trimmer is usually the best option for people who own large properties of land with thick overgrowth to cut down. However, an electric model might be suitable for a small and well-kept yard or lawn.
2-Stroke or 4-Stroke Engine
There are two basic options when it concerns gas engines in power tools: a 2-stroke or 2-cycle engine or a 4-stroke or 4-cycle engine. The difference is how they work and the number of strokes the piston has to make before generating power. But, you might be wondering, what does that actually mean?
2-Stroke Engine
A 2-stroke engine will either use a mix of gasoline and oil, or you could purchase a premixed fuel blend. It might seem like a stressful task, but it also means that you wouldn't have to perform regular oil changes. 2-stroke engines are also known to produce more power than their 4-stroke counterparts.
4-Stroke Engine
On the other hand, a 4-stroke engine uses pure gasoline, so there is no need to mix the fuel. In addition, string trimmers that use 4-stroke engines are usually quieter and have better fuel efficiency than their 2-stroke counterpart.
It is because of these features that the 4-stroke trimmers are more expensive. However, you need to keep in mind that they need more maintenance, seeing as they need regular oil changes.
Factors to Note When Purchasing a Gas String Trimmer
Once you have decided on the trimmer you want, you'll need to compare the different options on the market. It can be difficult choosing a gas string trimmer out of the sea of options, but there are some factors you can take into mind when purchasing a gas string trimmer. These factors or aspects to look at include;
Engine Power
The primary focus of any string trimmer is the engine's power. Therefore, you need to understand how the horsepower works and the number of cylinders the model you chose has. If the string trimmer you get isn't powerful enough to cut through thick grass, it will take you longer to achieve your aim.
The most suitable engines are the 25 to 30 cc engines, but a 21cc 2-stroke engine would work fine if your yard is quite small. The 4-stroke models are more suitable for tougher lawns.
In simpler terms, the higher the CC rating of the engine, the more power the string trimmer would produce. A more powerful engine cist more, so you would have to decide if it's worth the extra cash.
Shaft Type
Gas string trimmers come with either straight or curved shafts. The curved option tends to bend between the handle and trimmer head, and it would be great for smaller individuals. The curved shaft is more durable because the design allows the drive cable to be more flexible. They also offer better balance than the straight options, which helps increase their ability to maneuver hard-to-reach areas.
The straight option is longer and more functional, but the curved options are lightweight and suitable for long hours of usage. The straight shafts are seen as a better option for taller people, and they are more powerful and helpful in keeping large lawns maintained. The main downside to this type of string trimmer is its high price point.
Cutting Width
The cutting width or cutting swath of a string trimmer is measured in inches, and it relates to the size of the cutting head. This helps you determine the area of grass that your trimmer can cut at once. A large cutting head and width will allow you to finish trimming a yard a lot faster than with a smaller cutting width. However, if your yard has a lot of difficult corners, a smaller cutting width might serve you better.
The basic width for most gas string trimmers is between 12 to 17 inches. You don't need more than 17 inches of cutting width to efficiently take care of your lawn; you would be able to trim your lawn at distinct heights and make life easier.
Line Diameter
The line diameter of a string trimmer defines the thickness of the string a string trimmer can accommodate. The thicker strings can cut through thick foliage and are usually more durable. For professional use, a 0.095-inch string is the best option; it allows you to cut through any thick weed or grass.
Weight
Another crucial point to include when choosing a string trimmer is the weight, seeing as you would be holding it for an extended period. For this reason, you need to get a string trimmer that's comfortable to operate.
If your string trimmer weighs up to 15 pounds, you could wear yourself out. To reduce the effect of the weight, some string trimmers come with attachable shoulder straps; however, they are mostly sold separately.
Fuel Usage
The more powerful engines use a lot more gas than the less powerful options. So it wouldn't make any sense to get a gas-guzzling model when you intend to use it for light work. However, there are models that are more fuel-efficient than the others, and they will save you money in the long run, which is why it is an important factor to note.
Comfort
The comfort of the tool is an important factor to note, especially if you intend on using it frequently. Pay attention to the handle and adjustable and if the string trimmer comes with a strap to hold the weight.
Accessories
Many string trimmers accept a number of different accessories, including blowers, edging tools, saws, brushes, and others. However, if you would like to use your string trimmer for other purposes, then you might have to note-getting one that accepts attachments.
String trimmers are mostly made for home use which is why they are more likely to accept attachments compared to commercial-grade cutters. The commercial-grade cutters are made for a more specific use which makes them less versatile.
Easy Operation
To make life easier for you, ensure you opt for a string trimmer that's user-friendly and easy to operate. There is no reason to make maintaining your lawn more complicated than it is, so go for a piece of equipment that is easy to use.
Ease Of String Change
Another factor that you have to note is how easy it is to change the cutting strings. The string in trimmers tends to wear out from time to time and requires changing. It should be an easy task to perform in a short period. However, this is a necessary process, so ensure you avoid models that are hard to change.
Easy Assembly And Maintenance
When you get your string trimmer and unpack it, it should be easy to put together and start using; it shouldn't require the help of a professional. The maintenance of the tool is another important aspect to note.
Ensuring that it stays clean and in top-notch condition will ensure the longevity of the trimmer. But, again, the maintenance should be easy.
Price
Gas string trimmers cost between $200 to $400 and more, so make sure you know your budget in order to narrow down the choices. However, you would have to pay more for features such as a larger cutting width, a powerful engine, and other special features.
Gas string trimmers help you to maintain a clean and attractive lawn, and there are so many options to choose from. However, we have made it easier for you by compiling an outline of the best gas string trimmers available on the market. So let's check it out.
Below are answers to some frequently asked questions.
Which Is Better Stihl or Husqvarna?
Stihl and Husqvarna are both good brands, but Husqvarna has the edge over Stihl thanks to its numerous features, such as its anti-vibration technology.
What String Trimmer Do Professionals Use?
Professionals use a range of different products, but our personal favorite commercial string trimmer is the Husqvarna 324LDX.
Which Is Better, 2 Stroke or 4 Stroke Trimmer?
2-stroke trimmers are more dependable than 4-stroke trimmers; they produce less vibrations, the latter also weighs a lot more. So 2-stroke engines make work less stressful.
How Do I Choose a String Trimmer?
Look for the essential factors you will need, such as engine power, weight, cutting width, and so much more.
Why Is Husqvarna Better Than Stihl?
Husqvarna has more safety features than Stihl. In addition, Stihl may have more power, but Husqvarna is more efficient.
Is Echo Better Than Stihl?
Stihl offers the best options and reliability when it concerns chainsaws, but Echo has a better advantage when it concerns blowers, trimmers, and edgers.
Are Stihl Trimmers Worth the Money?
Stihl trimmers are investments, especially for professionals and homeowners who need a reliable lawn tool and want top quality.
We all love a well-kept lawn, but achieving this requires you to have the right tools for trimming your yard. A lawnmower on its own can't get the job done properly, which is why you would need a string trimmer.
However, if you would prefer a strong string trimmer that allows you to move freely around your compound and one that can run for as long as you need it, then the gas string trimmer may be the best option for you, as it would provide you with all you need.
In this article, we have provided you with the best gas string trimmers available on the market in order for you to choose the best option for your lawn easily. In addition, we included details such as the engine capacity, competitive features, and functionality of each of the models selected. We also highlighted their strong points and weak points.
With all the information provided above, you have all you need to choose the most suitable option for your lawn. You could make your choice from the provided items or use them as a reference to get what you want.
Read:
6 Best Backpack Leaf Blowers
7 Best Broadcast Spreaders and Fertilizers
7 Best Electric Hedge Trimmer 
Check out more content like this on our website.