One of the most common problems homeowners have is the consistent struggle to maintain their garden or lawn and ensure their pathways and other lawn parts stay clean. If there is a delay in the clearing of grass and weeds, your good-looking garden could be ruined quite quickly, and your beautiful space will turn into an overgrown mess of vegetation.
People that have a large expanse of land know that using a lawnmower or a weed whacker is enough to properly take care of your garden. So instead of purchasing an array of garden tools, you can simply get a brush cutter to handle all the hard work.
Brush cutters are versatile handheld garden tools that were made to go through the most difficult weeds. They would help you to effortlessly take care of all your garden chores that you need to perform on a regular basis.
Let's take a look at the best brush cutters.
The Best Brush Cutters Are Reviewed Below
We have provided you with a list of the best brush cutters, along with their key features, specifications, pros, and cons. Knowing all of this will help you choose the right brushcutter for your needs.
1
Makita 4-Stroke Brush Cutter
The Makita 4 stroke brush cutter is suitable for any medium to large size garden or yard.
Engine: It is a gas-powered cutter that uses a 25.4 cc engine. Its four-stroke engine provides you with the power you need to handle overgrown and hardened weeds and grass.
Lubrication System: This cutter comes with a multi-position lubrication system that allows you to tilt it at any angle. It allows you to easily make angled cuts at difficult corners.
Blade: The blade of this cutter is sturdy enough to cut through small trees and dense brushes while still being lightweight. The blade has a cutting width of 9 inches with a shaft length of 57 inches. Its blade is of high quality, so it lasts long even after being used to cut thick brushes multiple times.
Tank: It comes with a translucent fuel tank that lets you see the amount of fuel left in the tank. The oil filling port and location of the drain plugs are easy to access for routine top-ups. Its fuel tank has a capacity of 20.3 Oz.
Design: It uses a straight shaft design that reduces the user's vibration, which makes it more comfortable to operate. It also features a quick-start technology that makes it start easily without so much effort.
Operation: It has a quiet operation even when it's at full throttle. It has a smooth operation, making it a versatile tool that provides you with a well-manicured lawn.
It features dual handles, which makes it easier to grip and move around.
Key Features:
Multi-position lubrication system
Mechanical automatic engine
Dual-stage air filter
Oil filling port
Drain plug
Steel driveshaft
Specification:
Brand: Makita
Model: Makita (EM2650UH) 4-Stroke Brush Cutter
Weight: 12.1 Pounds
Dimension: 72 * 10.25 * 11.25 inches
Pros
It is lightweight
It has a solid build
It is suitable for medium to large size yards
It has an easy start
It comes with a powerful four-stroke engine
It provides you with great value for your money
Cons
It is quite expensive
It cutting blade is quite dull
2
Husqvarna 128LD Gas String Trimmer And Brush Cutter
The Husqvarna brush cutter is a powerful, efficient and reliable garden tool.
Controls: It is easy to use thanks to its smart start and intuitive controls that allow the brush cutter to start without any stress or effort.
Engine: Its X-Torp engine also has increased fuel efficiency, which allows you to use it for long periods.
Operation: This brush cutter is battery-powered, and it was made to have a quiet operation, which makes it ideal for residential and commercial landscapes.
It is ideal for use on large landscapes, thanks to its comfortable grip that supports hours of extended use.
Key Features:
28 cc two-cycle engine
17 inches cutting width
Tap 'N Go line release
Translucent fuel tank
Specification:
Brand: Husqvarna
Model: Husqvarna 128LD
Weight: 11 Pounds
Dimension: 12.2 * 10.25 * 40 inches
Color: Orange and Grey
Pros
It has a quick-start feature
It comes with improved fuel efficiency
It is a powerful and reliable tool
It is a versatile tool
It has a comfortable grip handle
Cons
It sometimes has issues with its carburetor mixture screws
3
Troy-Bilt TB42 BC 2-Cycle Gas Brushcutter
This brush cutter from Troy-Bilt comes with a lot of amazing features, and these features make it the perfect tool for maintaining a yard.
Engine: It is powered by a two-cycle gas engine that produces 27 cc thrust while still being easy to start and comfortable due to the reduced vibration it produces. The engine is easy to start due to its JumpStart capable engine.
Other gas-powered gardening tools have to be pulled to start the engine, but in this brush cutter, the JumpStart features eliminate the need to pull a cord to start the engine. But, you should know that it's sold separately.
Its two-cycle full crank engine is sturdy and lightweight. Even when you're using it at full throttle, it doesn't create nerve-racking vibrations.
Parts: This brush cutter is attachment capable and is made from high-quality parts that improve the durability of the tool even when used to tackle tougher jobs.
Blade: It features a straight crankshaft that transfers power to the blade with reduced vibration. Its high RPM blade lets you cut through thick brushes with ease.
Design: It has an adjustable J handle that is cushioned and lets you grip the handle firmly. The design of the handle allows you to comfortably hold it whether you're right or left-handed.
Key Features:
27 cc 2-cycle engine
Adjustable J handle
8 inches 4 tooth steel brush blade
Attachment capable
Foot pedal automatic CVT
Specification:
Brand: Troy-Bilt
Model: Troy-Bilt TB42 BC
Weight: 14 Pounds
Dimensions: 11.25 * 12.25 * 36.75 inches
Pros
It is easy to start
It has a comfortable J handle
It comes with a powerful engine
It allows several attachment options
It has a sturdy cutting blade
Cons
The instructions are hard to understand
The easy-start attachment is sold separately
Brush Cutter
Brush cutters are tough, durable, and strong gardening tools that turn out to be a great investment. If you own a large lawn that needs regular attention, then it would be best to invest in a brush cutter. Because you are making a big investment by purchasing a brush cutter, you would want to ensure that you are getting the best brush cutter for your lawn, garden, farm, or landscape.
That is why you need to know a few things before you purchase a brush cutter.
What Is a Brush Cutter?
A brush cutter is a useful powered gardening tool that is usually used for various gardening maintenance jobs.
Uses
To be more specific, it can be used to
remove weeds
chop tree limbs
trim grass
get rid of other foilage missed by a lawnmower
perform other upkeep jobs in your garden or lawn.
bushes and trees around your lawn or garden.
Brush cutters are either powered by a gas motor or are battery-operated so that they can provide you with more power than other garden tools.
They come with long shafts that are constructed to reach every corner of your lawn or garden, and they tend to make the upkeep of your garden much easier. If you own a large variety of gardening tools, you may not necessarily need a brush cutter, but a brush cutter allows you to own multiple attachments so you can tackle any task.
This means that you can use it for more than one task in the garden; it saves you the cost of purchasing new garden tools for every job. They are usually more popular among residential users as they value them more.
Names for Brush Cutter
Various people have different names for a brush cutter; some of them include
brush saw
clearing saw
weed eater
weedwhacker
No matter what you call them, they are versatile and powerful, and any gardener serious about his garden should own one.
Do I Need a Brush Cutter?
If your garden is thick, overrun, and undertreated, then owning a brush cutter will seriously help you. Brush cutters were designed to handle the most difficult tasks that weed cutters, or regular lawnmowers cannot handle.
They are motor-powered; whether it's gas or battery doesn't matter; thanks to their motor, they have a powerful motion that helps them effortlessly cut through thick foliage, and overgrown lawns and get rid of weeds.
If you own a large array of gardening tools, you may not want to spend money on another gardening tool, but brush cutters are different; they are multipurpose, efficient, and powerful gardening tools that can replace the majority of your other gardening tools. Brush cutters tend to be more expensive than the typical weed whacker and some lawnmowers, but they perform better.
Purchasing a brush cutter is certainly an investment, but it will make your gardening experience much easier. They will continue to perform even long after your other garden tools have given up. If you would like to maintain your lawn or garden's look, then consider getting a motor-powered brush cutter. They would make your gardening life much easier.
Types of Brush Cutter
Brush cutters are broken down into three groups based on their usage. Below are the most common types available on the market;
Handheld Brush Cutter
A handheld brush cutter is a portable tool that is easy to maneuver. They have a smaller engine compared to their counterparts, but they are great at mowing down overgrown weeds, grass, and saplings.
Walk-Behind Brush Cutter
A walk-behind brush cutter is much heavier and bulky than a handheld brush cutter, but it provides you with more power to tackle much more difficult tasks.
They may look like lawnmowers, but they come with more attachment options than regular lawnmowers. Many professional landscapers and individuals who own large yards tend to use walk-behind brush cutters more often than others.
Tow-Behind Brush Cutter
A two behind brush cutter is usually attached to a separate powered vehicle like a tractor. Using this, you can cut down a large expanse of thick weeds and grass in a short time. The primary users of this type of brush cutter are professionals and commercial landscapers.
What Can I Use My Brush Cutter to Cut?
Brush cutters are powerful enough to cut through most things that regular trimmers and other gardening tools can not.
They can easily handle shrubs, broad weeds, and grass.
A brush cutter is mostly used to cut around thickly overgrown gardens, lawns, and fields.
It is easy and convenient to use to cut around grass or remove weeds around flower beds or trees, anywhere you need more cutting control.
For instance, if your yard is filled with several rocks and stones, or you need to cut around slopes and banks, then a lawnmower might not be helpful in this case. So it would be best to use a brush cutter as it would get the job done efficiently.
To ensure that the brush cutter is suitable for your needs, you need to check what you would be using it to cut.
How Thick Can a Brush Cutter Cut?
A brush cutter comes with durable metal blades that let it cut through thick weeds and grass that are up to 6 inches thick. It has a better advantage over the string trimmer that majorly uses only nylon strings to make cuts.
Chainsaw Teeth Type
The cutting range of your brush cutter depends on the attachment type used. For instance, the chainsaw teeth type attachment has 20 teeth, and it can cut through a 6-inch thick branch without any problems. Brush cutters have a wide range of attachments, and they allow you to cut through a variety of materials.
How long will your blade last?
How long your blade will last depends on how frequently you use the brush cutter and the item you're cutting. If you maintain the brush cutter properly and keep the edges sharp, then the cutter would last longer while still cutting through thick objects.
Factors to Consider When Purchasing a Brush Cutter
When choosing a brush cutter for your garden or yard, you need to consider your needs, the things you intend to cut, and the effort you would have to put into maintaining your yard or garden.
In order for you to find the best brush cutter for your space, you need to consider certain aspects of the tool. When you're shopping for a brush cutter, keep the following factors in mind.
Power
The power rating of your brush cutter would determine how complex and thick cutting tasks you can take on. You can either purchase a gas-powered brush cutter or an electric-powered brush cutter.
Gas-Powered Brush Cutter
The gas-powered brush cutter usually offers more cutting power than the electric-powered brush cutter.
A gas-powered brush cutter with a 2-stroke engine usually provides up to 42 cc, which allows you to complete the task much more quickly and efficiently.
Gas-powered brush cutters also come in a more powerful 4-stroke engine that offers even more power than the 2-stroke engine, and it operates at a much cooler rate with more output.
They are more expensive, bulky, and need more regular maintenance.
Gas brush cutters are used mainly by professional and commercial landscapers.
Electric Brush Cutter
For individuals that have a small to medium-sized garden or yard, they can go for an electric brush cutter; they are easier to use and maintain.
The cordless option uses a battery that offers you higher maneuverability and portability.
It is wonderful for people who need to maintain their residential lawns but do not want to handle the complicated maintenance routine that a gas brush cutter requires.
A good and sturdy brush cutter can handle overgrown bush and weed better than a regular line trimmer or mower can handle. But, do not be tempted to get a powerful and expensive brush cutter when you know you would rarely use it. That is why it is important to first identify your needs and requirements.
Durability
As we mentioned before, buying a brush cutter is an investment that can make your gardening chores easier. But, if you are going to spend a lot of money on one tool, you need to make sure it will last long enough to serve you well and that it can cope with what you need it to handle.
When you're looking into the durability of a brush cutter, ensure you check the blade material and the formation of the shaft. Blades and shafts that are made from durable, tough metallic materials tend to survive any task.
Brush cutters are made to tackle tough and thick foilage, so it shouldn't be hard for you to find a durable option.
Cutting Diameter
Your brush cutter's cutting diameter determines the maximum area coverage for each pass. A large cutting diameter means that you can cover a larger space in each pass, saving time.
There are various attachments that have cutting diameters ranging from as low as 4 inches to as high as over 9 inches.
Keep in mind that choosing a brush cutter with a larger cutting diameter brush attachment means that the cutter would be bigger and bulkier. Finding the appropriate cutting size blade lets you reach most types of garden layouts.
Multi-Purpose Features
A brush cutter can replace almost every other gardening tool you have. Most brush cutters come with a multipurpose function which makes them versatile. Some brush cutter comes with attachments while you can purchase extra attachments for other types of brush cutters.
To make the most out of your purchase and save time, go for a brush cutter that can handle a variety of terrains. This makes sure that you only need one brush cutter for whatever task you want to tackle.
Handle
Brush cutters can be operated with a single hand or both hands.
Dual-Handle Type
The dual handle type brush cutter looks like bull horns, but they provide you with more control when using the cutter.
Single-Hand Brush
However, the single-hand brush cutter comes with a loop handle. It is suitable for small jobs where you need easy maneuverability to reach tight and difficult corners.
Choosing the right handle type depends on the task you intend to perform. For heavy-duty and challenging tasks, choosing a dual-hand type brush cutter will be the best option as it will provide you with more control while reducing fatigue.
A handle that comes with cushioned layers allows you to grip the handle firmly without getting fatigued.
Shaft
The shaft present in a brush cutter can either be straight or curved. The post is what allows the transfer of power from the motor to the blade.
Handheld Brush Cutter
The engine in a handheld brush cutter is located at the top end, while the module is found at the other end of the shaft.
Curved Brush Cutter
The curved brush cutter shaft is more ergonomically convenient to reach tight corners, and it is easier to handle. However, it affects the blade's power distribution, which causes the cutter to be more prone to breakdowns.
Straight Brush Cutter
On the other hand, the straight brush cutter is easy to use and is more reliable than the curved shaft brush cutter. The right one to choose depends on your garden or yard's layout, and you also have to consider the access to the places where you would use the brush cutter.
Vibration Damping
When you're operating a brush cutter, you will notice that it tends to generate a lot of vibration. A gas-powered brush cutter would generate more vibrations than an electric-powered brush cutter. The vibrations make the user get tired much more quickly.
Getting a brush cutter with the vibration damping feature will reduce the vibration that the user feels, which in turn allows them to work for longer periods. It also improves the operator's comfort and makes it easy to make smooth and steady cuts through overgrown and thick grass.
Universal Attachments
If you want more value for your money, ensure you choose a brush cutter that comes with a universal attachment connection. Considering this factor is quite important, especially if you are buying a brush cutter for your personal use, you would want to save money.
Head Attachments
Being able to change the head of your brush cutter offers you more flexibility when using the tool. Having replaceable head attachments allow you to change from a string trimmer nylon cord to a metal blade to tackle tougher weeds.
It saves you time and reduces the number of tools you need for one job. If your needs are more diverse, ensure you go for replaceable head attachment options as they would come in handy.
Shoulder Harness
If you opt for a handheld brush cutter, then go for one that comes with a shoulder harness or straphanger feature.
It reduces the load your hand feels and prevents you from getting tired too quickly.
Not every brush cutter has the shoulder harness feature, so you may have to purchase it separately.
It is more comfortable to use a shoulder harness while cutting.
How Do I Use a Brush Cutter?
After purchasing the suitable brushcutter for your needs, you need to learn how to properly operate the tool to take proper care of your garden or lawn. Knowing how to use a powered tool is very important in order to prevent any sort of injury and provide your garden with the best cut.
You can use your brush cutter for mowing: weeding, tapering, and other scything purposes.
Brush cutters might differ depending on their brand, motor power, and size, and you may also have to find different attachments depending on the task at hand, but they have a similar way of functioning. With brush cutters, practice makes perfect, it might take you a few uses to get used to how they work, but you would eventually get there with time. A brush cutter can be used in four main ways, and they include;
Mowing
Brush cutters can be used to maintain, treat and create a tidy and neat garden. It works in a similar way to a grass trimmer or lawnmower.
Weeding
Brush cutters are highly efficient tools that can be used to easily get rid of weeds from paved areas such as your front yard or patio.
Tapering
Due to how versatile brush cutters are, you can use them to cut around objects such as trees and fences. They allow you to trim the lawn and stop it from overgrowing in some areas.
Scything
Brush cutters are most likely most popular for being able to treat long weeds and lawns. Using a brush cutter to do this requires you to have a lot of practice and a steady hand.
Tips on How to Use a Handheld Brush Cutter
Ensure you firmly hold the brush cutter with your dominant hand on the rear handle and on the other side of the handle. Maintain a steady and firm grip using your two hands while you use the tool.
Using both hands and a firm hold, bring the brush cutter to the right side.
Ensure that you maintain your grip, balance yourself on your feet, and place yourself in a stable position so that you do not lose balance due to kickbacks.
Inspect the area you're working on for any loose objects such as glass, rocks, fence, concrete, and wired wood that can be flung by the cutter or can get tangled in the blade.
To make cuts, start moving your brush cutter in a swing motion from side to side, and make sure you avoid making contact with any hard objects.
When you're done, make sure you turn the engine off and clean the cutter's blades with water, then wipe it dry to prevent rust.
What Is the Difference Between a Trimmer and a Brush Cutter?
String Trimmer
A string trimmer makes use of cheap nylon heads that contain plastic cords wrapped in a spindle. You have to keep feeding the rope as it tends to break or get damaged while cutting. A string trimmer would be great for you if you have a garden or lawn with a light amount of grass and weeds.
Brush Cutter
On the other hand, a brush cutter head comes in various types and shapes. The brush cutter attachments are made specifically for different tasks such as cutting weed or grass and chopping small wooden limbs that a string trimmer wouldn't be able to handle.
Now that you know all you need to know about brush cutters, it is time to choose a suitable brush cutter for your needs. To make things easier for you, we have compiled a list of the best brush cutters available on the market using customer reviews, technical knowledge, and renowned brands.
Want to know more about Landscaping? CLICK HERE.
Below are answers to some frequently asked questions.
What Is the Best Brush Cutter to Buy?
The best brush cutter to buy is the Makita 4-Stroke Brush Cutter. It features all you need a good quality brush cutter.
Are Electric Brush Cutters Any Good?
An electric brush cutter is most suitable for a small garden because they lack the power to handle anything more than that.
What Is the Best Stihl Brush Cutter?
The best Stihl brush cutter is the Stihl F85 brush cutter.
What Is the Difference Between a Trimmer and a Brush Cutter?
A trimmer is a lighter, smaller tool that is used in trimming the lawn where the mower couldn't get to. Brush cutters are more powerful, and they can cut through high grass and small trees.
How Thick Can a Brush Cutter Cut?
A brushcutter has enough power to cut through small trees.
What Is the Best Walk Behind Brush Cutter?
The best walk-behind brush cutter, in our opinion, is the Billy Goat BC26 Brush Hog.
Can You Use a Brush Cutter to Cut Grass?
Brush cutters can be used to cut grass and weeds as well as tidy other parts of the garden that a mower can't reach.
What Is the Best Battery Whipper Snipper?
The Makita DUR187LZ Cordless line trimmer is one of the best battery whipper snippers.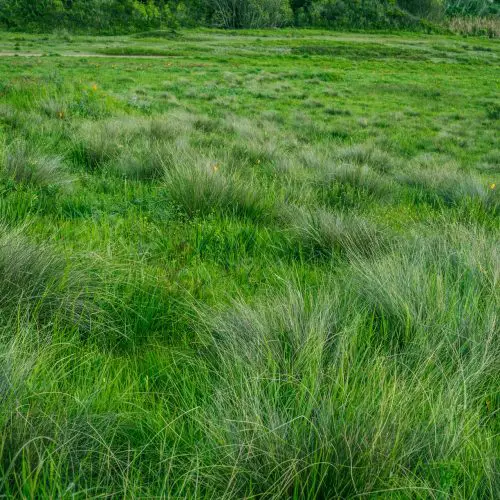 A brush cutter is a reliable and versatile tool that is incredibly helpful. After going through the buying guide and product review, it should be much easier for you to choose the right brushcutter for your needs.
Let us know what you think in the comments below.
Check out our website for more content like this.