Every day, there have been technological improvements in our day-to-day life. Gone are the conventional garden hoses that are heavy to move and get damaged within a short period.
Expandable garden hoses are built specifically to withstand enough pressure the water running through it will give.
They are made using latex for the inner part to help it stretch three times Its size and nylon on the outer part to prevent it from getting wet all the time.
I bet you probably doubt if these hoses are different from those we have had in the past. Well, good news, this guide is here to help you realize what expandable garden hoses are and how you can get the ones with top-notch quality.
The 10 Best Expandable Hoses Are Reviewed Below
Getting an expandable garden hose is very easy, as you can go online to check different stores that have them in stock, order one or two, and have them delivered to their nearest store to you or directly to your doorstep. Still, the real problem lies in getting an expandable hose made of suitable quality materials.
The factors to evaluate when determining which type of brand to buy from. So many fake brands and there are the real ones with high-quality products at affordable prices.
There have been thousands of feedback from customers worldwide, and we can say both the positive and negative feedback depend on the type and amount of buying guides a customer has gone through. For instance, you go through a buying guide made by four or five different people and find a similar product in all of the guides.
Then you can rest assured that the particular product is durable. The quality of these hoses is determined by the types of materials used, latex, TPC, nylon, and other materials, to mention a few. There has to be sufficiency of most of these materials to ensure the durability of these garden hoses.
Learn more about Gardening and its products HERE.
Have you been wondering how you can evade spending excessive money and time on repairing your garden hoses?
Well, the TBI Pro Garden Hose is here to the rescue. Specially designed with high-quality materials to avoid common problems, it is made up of an outer fabric that is sturdy and helps to last long. There are 4 layers of latex on the inner layer, which is stronger and lasts longer than those generally made with 2-3 layers.
It doesn't tangle up during use and is made to prevent leaking using connectors protectors, and these connectors are, in fact, rust-free, so there is no issue of wear and tear.
It comes in different lengths but specifically at 50ft to help cover some distance. The hose also comes with many packages, such as a hanging hook, storage bag, etc.
Its flexibility and expandability make it stand out as number one on our list. Use it with confidence every single day.
Key Features:
High quality and heavy-duty
Durable design
Mobile
Expandable
Retractable
Specification:
Brand: TBI-Pro
Model: BZ-WH-61
Pros
It expands up to 3 times
It's durable
It comes with storage equipment that helps save space
It's doesn't leak
Suitable for different purposes
2
Nifty Grower 100ft Expandable Garden Hose
Gardening is great, but you need to do some necessities to keep it in a satisfying condition. Watering is one crucial thing you need to do to keep those plants in your yard. This is where a garden hose comes in. It's okay to get a hose, but more importantly, an expandable hose is better.
The Nifty Grower expandable hole is a good choice. It is made of high quality. It is also durable and is sturdy enough to last you for a long time. The double latex inner tube is covered by a flexible fabric and allows the hose to expand to 100ft. And by simply attaching a spray nozzle, you can easily water your plants or wash your car.
Key Features:
Compact design
Durable
Polyester fabric cover
Multi-purpose
Flexible
Specification:
Brand: Nifty Grower
Model: B096R1GTR7
Pros
It expands up to 100ft
It can be used for different purposes
It's sturdy enough to last you for long
It makes watering simple and easy
Easy to maneuver
3
Gardguard 50ft Expandable Garden Hose
Gardguard Hose is another excellent choice. It is one of the best. The hose is designed with a polyester fabric cover that prevents the hose from breaking or leaking. This allows you to use it for a long time without worrying. It comes with 3/4 inches connectors that will neither leak, rust nor crack.
Are you bothered about the nozzle?
Gardguard Hose comes with a nine pattern nozzle that will fit different choices. This expandable hose can expand as long as 50 feet from 17feet, and when the water pressure is gone, it retracts to its normal size. It's also suitable for purposes other than garden use.
Either you need to do some car washing, or you need to wash your house, and floor, or bathe your pets, it's a perfect fit. Water fun isn't an exception.
Key Features:
Strong 3/4 connectors
Durable
Retractable
Nine pattern nozzle
Multi-purpose
Specification:
Brand: Gardguard
Model: NS-GH50A
Pros
It is flexible and easy to use
The Length can expand up to 3 times
Durable polyester fabric cover
It's strong enough to last you for years
It's easy to move and maneuver
4
Zalotte Expandable Garden Hose
Zalotte expandable garden hose has made its way into the best over the years because of its lightweight, durability, and high quality. It is designed with leak-proof materials and high-quality polyester fabric, making it firm enough to last for a long time.
Its inner layer is made up of latex which helps it extend up to 25 ft automatically as soon as the water is pumped into it and detracts into 9 feet in seconds after use.
This hose doesn't tangle and can be used for several purposes like pet washing, car washing, and watering of gardens and lawns.
Its nozzle has nine spray patterns:
Shower
Full
Flat
Center
Jet
Soaker
Mist
Angle
Cone
It also comes with a hanging hook and free storage bag to help keep space. However, this hose might get damaged if precautions are not taken.
Some of the precautions include;
Draining the water out of the hose immediately after usage to prevent its inner layer from getting weak.
Not exposing the hose to temperatures that are too high or low.
Proper storage after use.
Key Features:
Nine pattern nozzle
Multi-purpose
Durable
Expandable
Pros
It's light in weight and easy to move around
It's firm and lasts long
It's tangle-proof
It expands up to 25ft and can be connected to make 50t, 100ft, 125ft, and so on.
5
TheFitLife Expandable Garden Hose
TheFitLife expandable garden hose expands up to 3 times its length, starting at 9 feet, and expands up to 25 feet depending on the type of pressure the water pumped into it carries. It detracts in seconds immediately after use, and never curls or tangles. I
It has a retractile hose suitable for several purposes such as expanding quickly, ductile Length, and proper water flows to support several objectives like watering gardens, lawns, car washing, pet bathing, and a lot more. Its premium quality ensures durability, no more burst, cracks, or corrosion.
The nozzle is also designed in 8 different patterns, and it fulfills various functions it's made for.
Key Features:
Light-weight
Durable design
Mobile
Expandable
Retractable
Specification:
Brand: TheFitLife
Model: TFL-2019NEW-BLACK-25FT-FBA
Pros
It expands up to 3 times
It last long thanks to the premium quality
It comes with a nozzle
It's easy to move and maneuver
Suitable for different purposes
6
Joeys Garden Expandable Hose
Have you been wondering, "where can I get a good quality garden hose but at a cheaper price"? Well, Joeys Garden Expandable Hose is the best option. This expandable hose can reach up to 3 times its size when in use. It's super light and heavy-duty, lasts for a long time, and has connectors, nozzles, and others made of high-quality materials.
The weight of the hose is  3 lbs makes it easy to move from one place to another while using. It also expands and can withstand enough water pressure.
Joeys Garden Expandable Hose can work with a minimum of 4 bars of water pressure and a maximum of 8 bars of water pressure. This helps it move from working on mid force to maximum pressure in no time.
It comes with an eight-way nozzle that serves you various experiences while using it. It's one of the best due to its heavy-duty and lightweight, plus it's one of the cheapest among the rest. So if you're looking for a great garden hose that isn't expensive, then Joeys Garden Expandable Hose is the best option.
Key Features:
Super light
Heavy duty
Moveable
Expandable
Sturdy design
Specification:
Brand: Joeys Garden
Model: JB50
Pros
It's affordable
It's light in weight
It doesn't tangle nor twist
It can withstand enough water pressure
7
HIYUTOY Garden Expandable Hose
HIYUTOY Garden Expandable Hose is another brand of water hose that lasts long and offers premium quality. How can you make a list of the best Garden Expandable Hoses and not include this one? Its heavy-duty function did buy it a place in the top 10 best Expandable Garden Hoses. It has the following specifications.
It's flexible
Doesn't twist
Durable
Suitable for multipurpose uses
Stretches up to 100ft in Length.
HIYUTOY Garden Expandable Hose comprises high-quality materials such as polyester, which covers the outer part, and latex which protects the inner part from wear and tear agents and helps it expand up to 3 times its standard size when used.
It comes with a nozzle with nine different spray patterns:
Large Shower,
All Pass
Spray
Oblique Shot
Fan Plane
Small Shower
Scattering
Through the Water Column and Water Column
These are somehow different from the usual spray patterns. It serves the best usage for all watering needs like pet cleaning, car washing, boat washing, plant watering, watering of gardens, and the likes. It withstands enough pressure too. It also comes with storage equipment.
So this is one of the best water garden hoses you can buy and enjoy for an extended period without issues(if taken care of in the right way).
Key Features:
Durability
Long
Expandable
Retractable
Specification:
Brand: HIYUTOY
Model: B07QQN7L28
Pros
It can cover long distances
It comes with a nozzle and storage equipment
It can be used for different purposes
It lasts long
8
Aterod Expandable Garden Hose
Talk about popularity and revolution, Aterod expandable garden hose is known for these. Its unique features and a one-year warranty are also a plus to this spectacular water garden expandable hose. It's been around for a while and has been upgraded from time to time to give users a whole new level of experience using it.
Asteroid expandable garden hose is made up of polyester fabric which helps prevent wear and tear, high-quality latex, which allows it to expand up to 3 times its size while being used and high-quality brass used in the connectors. It's 75ft when water is pumped into it and detracts to a 25ft length when not in usage.
Its durability and flexibility are fantastic.
It comes with a nozzle with nine different spray patterns:
Angle
Flat
Jet
Cone
Shower
Full
Center
Mist
Soaker
It's useful for other reasons like car washing, watering of gardens, pet cleaning, and many more.
Key Features:
Flexibility
Durable
Popular
Heavy-duty
Specification:
Brand: Asteroid
Model: B07PJ49J9J
Pros
It can be used for different purposes
It is sturdy and serves you for an extended period
Easy to use
It comes with a nine function nozzle
The Flexi hose is perfect for yard work as its maneuverability is world-class. It quickly expands when water is pumped into it and detracts immediately.
The Flexi hose is also lightweight, which aids its movement from place to place in the yard. It comes with a nozzle that has eight different spray patterns which meet your various spraying needs. It doesn't tangle nor twist and expands up to 2 times its length when pumped.
It has a double latex inner layer that aids expansion and brass materials that prevent rusting. It's also leak-resistant as there are connector protectors. The Flexi hose is excellent for watering your gardens, washing your car, cleaning up your pet, and other things too.
One thing spectacular about this product is its durability. Some customers have attested to using this brand's product for years without repairing it, which shows how long it lasts without repair issues.
Key Features:
Multifunctional
Expandable
Durable
Mobile
Light-weight
Specification:
Brand: Flexi hose
Model: 127
Pros
it's easy to move as it is light in weight
It can be used for other purposes
It comes with a nozzle
It is a sturdy design made with quality materials
A mind as a brand is popularly known for producing quality products that don't exclude their expandable garden hoses. It comes with a lifetime warranty to prove its efficiency, which means you can always return it whenever it gets damaged. Products like these are highly durable and different from others.
This hose is also great for your garden as it stretches up to 50ft in Length when used and detracts to 25ft which implies that it expands up to 2 times its size, which is decent for your garden.
Acmind Expandable Garden Hose has an outer layer made of 3750D polyester and an inner layer made of complete latex. It comes with a nine-function spray nozzle that meets all your spraying needs. It's flexible, doesn't tangle, and it's easy to move from place to place. It's an excellent product to buy just because of the high quality and warranty attached to it.
Key Features:
Lifetime warranty
Flexibility
High quality
Durable
Pros
It doesn't tangle up
Easy to move
It is guaranteed to last longer than most hoses
It has a lifetime warranty that helps solve repairing issues
Buyer's Guide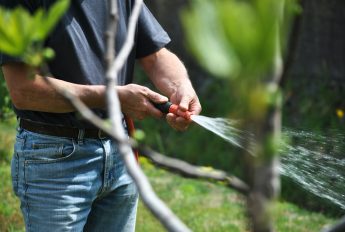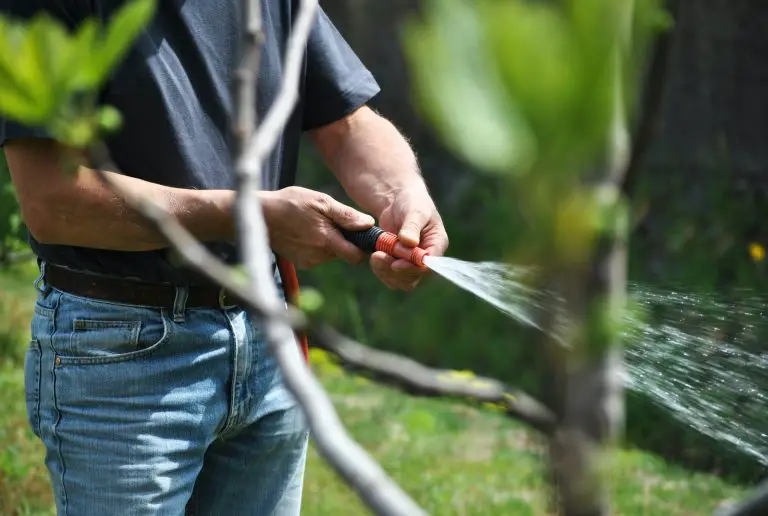 A flourishing garden gives that satisfying feeling. And one of the most important things you should do to achieve such a garden is watering. In this case, a garden hose will come in handy. An expandable hose is a great choice.
Wouldn't it be great to be able to water your plants in just an instant?
However, getting the correct type of hose is indeed paramount as you do not want to purchase a hose that barely functions or a hose that will pack up after using it for a short time. This section will give answers to questions that will guide you to finding the perfect expandable hose.
What Should I Look For in an Expandable Garden Hose?
Before getting an expandable hose, there are several things to consider. These things will guide you to get the perfect type that suits your need. Let's consider some of these things.
Type of Material
The type of materials used is an excellent determinant of how well an expandable hose will function. Hose made from quality materials will effectively get function and make work easier. The outer part of an expandable hose should be sturdy enough to withstand any perforation or abrasion. The core should be resilient to retract to its standard size after expanding.
Number of Core
An expandable hose should come with a core that is stretchy and durable. Most hoses come with a double-layer core, while some come with four layers. This is because the core, though protected by the shell, still gets threatened with abrasion and perforations as the grits find their way through the shell.
So additional layers equals additional durability. However, a thicker core will need excellent water pressure to be able to expand to its full Length as little water pressure will limit the expandable Length.
Hose Fittings
Hose fittings, also referred to as connectors, are either plastic or brass, and they serve as a connection between the hose and the water supply and the spray nozzle. Brass hose fittings are more durable and can withstand repeated threading to the water supply and the nozzle.
Plastic hose fittings are often long-lasting and inexpensive, but the downside is that, when used on metal water outlets repeatedly, it becomes cross-threaded and results in leaks at the water outlet. Some expandable hoses also come with a quick connector that allows you to connect the hose to the water supply without the need to thread.
Length and Weight
Length is another thing to look out for. A long hose makes it easy to reach long distances quickly and conveniently. So get a hose that suits your need, keeping in mind that weak water pressure will limit the Length. But with great water pressure, it will expand to its maximum length.
Let's talk about weight. Expandable hoses weigh a little. There are light in weight in comparison to conventional hoses. Materials like connectors and nozzles also impact the weight of a hose.
Nozzle
The nozzles of most expandable hoses are metal or plastic. The nozzles are designed to have different spray patterns making them suitable for other use. The patterns often include shower; for watering the yard or garden, cone; for watering the lawn before applying fertilizer, flat; for developing or young plants, soak; for watering large plants like trees or shrubs and many other functions.
Flow Rate
The flow rate of an expandable garden hose will depend on the water pressure of your home and the dimensions of the hose. Have it in mind that while hoses that are long have lower flow rates, a wide diameter increases the flow rate.
FAQs
What are expandable garden hoses?
They are specially built hoses that expand when water is pumped into them and detracts after being used for watering gardens and lawns. The type of materials used in making them determines how long they can last while using them. Sometimes the inner layer might be made up of 2 or 3 layers of latex which prevents early damage while using it and helps the user get a whole new experience about watering plants.
What are expandable garden hoses made of?
Expandable garden hoses are made of two parts instead of the one part the conventional garden hoses do have. The inner layer is made of latex or TPC to help it expand up to two or three times its size, and the outer part is made of nylon materials that shrink with the hose whenever it's not in use and helps prevent wear and tear.
How do expandable garden hoses work?
They work like the conventional ones. I mean, they both water gardens and lawns, but expandable garden hoses work with a different style instead. The traditional garden hoses don't expand whenever water is pumped into them, and of course, that changes the amount of water they can take in and pour out.
But expandable hoses are a different breed. They take in water as soon as you turn on the source, expand up to three times their size in seconds and give out twice as much as the conventional ones while withstanding the water pressure through the help of the inner layer made of latex. They are also, in fact, lighter than traditional hoses.
Are expandable hoses any good?
Absolutely! Expandable garden hoses have made a lot of work more accessible and more convenient to do. When there's water pressure, an expandable hose can expand up to 3 times its average length. And when the pressure is off, it retracts and returns to its original size. Expandable hoses are usually light in weight which makes them easy to move. The inner tube of an expandable hose is generally designed with latex or TPC.
Expandable hoses do not tangle, occupy little space, and are easy to maneuver. The function of expandable hoses isn't limited to garden use alone, as expandable hoses are multifunctional. Car washing and pet washing are also included in the options. Water fun isn't exempted. As long as an expandable hose is made out of high-quality materials, you can rest assured that it is worth buying. The paramount goal is choosing the right one.
Can you fix expandable hoses?
The straight answer is yes. It is possible to fix expandable hoses if damaged. You can do some patching though it may tear or start leaking again. However, rather than patching, you can go for a less temporary solution. Break the hose, then join it back together using connectors.
Meanwhile, not all expandable hoses are easy to repair because of the materials used in making them. When you understand the materials used to create an expandable hose, you'll know if the hose is repairable or not.
How to repair an expandable hose?
If your hose is leaking, try the following steps:
Since most leaks occur on the inner layer, you'll have to remove the nylon on the outer part to make things easy.
-Remove the connectors at each end, then roll the outer sheath down so that you can get to the broken place. The nylon should have enough space to make it easy to access the affected area. If there isn't enough space, slice the nylon and once you're done with the repair, sew it back.
-Remove the inner layer. To get this done, you'll have to make use of various tools to get precise incisions. To cut out the damaged part, make use of a sharp cutter.
-Create a new connection. To do this, you'll need to make use of connectors. Of course, you don't need to get new connectors because the ones at hand will do the work. Remove the old tubing and clean the connector. Afterward, after applying pressure, use barb connectors to promote expansion within the connector's locale. To make an airtight seal, make use of expanding tape. Ensure that you use the exact amount of tape required to expand and form a good seal properly.
What is the best lightweight hose to buy?
The best lightweight hose is FOREVER STEEL HOSE.
The forever steel hose is rated the best lightweight hose. It is easy to move and maneuver, making work easier and faster. It can handle any weather condition, be it in the snow or sun. It is a durable design. It is resistant to punctures, cracks, and rust. It is also easy to store.
Forever steel hose is a flexible hose that allows you to use the holes in any condition without tangling.
Conclusion
Whether you're just about to buy an expandable garden hose or you need to replace an old one, you want to go for the type that's worth the money and will last long. An expandable garden hose has many functions ranging from garden work and household work to outdoor use.
There are many hoses out there, but you can choose an effective and quality expandable hose with a good guide. This article has listed several options to choose from. It has also provided answers to questions that may puzzle you when selecting the best expandable hoses.
As you carefully read through, you'll be able to choose the hose that suits your need.
Tell us in the comments section, which expandable garden hose you will prefer.
Check out our blog for more insights.