The winter season comes with all shades of fun and euphoria as a family gathers to celebrate the festivity and holidays. Winter seasons are icy, and the falling of snow can cause some obstructions to men's daily activities, like covering the sidewalk or driveway to prevent easy movement. The clearing and blowing of snow are a backbreaking activity, a pile of snow is pretty hard to clear off, and the use of a snow shovel does not make it less tasking. Like every technological advancement, introducing an electric snow blower makes the snow shoveling process less tedious, faster, and Eco-friendly.
Snow blowers powered with gas were the early entry, and with the world increasingly interested in going green and reducing carbon emissions, electric and battery-powered snow blowers were developed.
The gas-powered snow blowers were the savior of back pains that comes from hand shoveling snow from the driveways and sidewalks, but they seem to put the environment at risk. You do not need to be overly concerned as the electric snow blowers work just as well as the gas-powered snow blowers.
In addition to keeping the environment safe and clean while in use, electric snow blowers are usually lighter in weight than our traditional gas-powered ones, which were pretty challenging to move around.
The electric snow blowers make less noise and are quieter while operating than gas-powered blowers, and they require less maintenance, regular service, repairs, and replacement of some engine parts.
After doing research we have shortlisted Best Electric Snow Blowers. Here are the top 8 reviews of Electric Snow Blowers.
Best Electric Snow Blowers - Top 8 Reviews
With the variety of Electric snow blowers, you get faced with the difficulty of choosing one that would suit and satisfy your cleaning needs. You can choose a corded or battery-powered blower after noting the level of power supply available to you. The degree of snow that falls in your area should also affect your choice of a snow blower as they can clear different snow levels. Putting your various need and requirements before us, we have reviewed top functioning electric snow blowers to guide your research and purchase.
1
Snow Joe SJ623E Electric Snow Blower
Snow Joe is a joy giver in snow clearing, it does the job for you amazingly well, and you do not have to worry about the backaches caused by snow clearing. The Snow Joe brand has grown beyond making electric snow shovels as they originally started; the company has developed subsequent snow-management products most users have loved.
The Snow Joe SJ623E electric snow blower is another fantastic development in the long list of snow blower models produced by the brand over the years. This model of electric snow blower offers you a high level of versatility with the ability to be used to clear snows from your medium or large-sized walkways and driveways.
Like our most important feature of electric snow blowers, you do not have to incur a maintenance cost that includes: gas fees, oil fees, and tune-ups prices. It takes no effort for you to start as the older gas-powered snow blowers, and you are assured of a quiet time while in you.
It comes with a universal chute clean-out tool that helps you remove all snow build-up; this adds to the adequate snow removing function it does, alongside the versatile chute. The directional chute is adjustable for about 180 degrees and throws up snow that is about 25 feet.
The SJ623E is a very electric snow blower with a 15 amp motor running in it, assuring you of a strong opponent against the driveway blocking snow. The 15 amp power of this Snow Joe model moves up to 720 pounds of snow every minute it moves. For night use, it also comes with a halogen light that helps you see your path at night; the halogen light can also sight when using during the day. This model of electric snow blower replaces gas-powered snow blower effortlessly.
Key Features:
Instant start push button
4-Blade Auger made from steel
No need for gas or oil
Directional and Universal clean-out Chute
15 Amp motor power
Halogen light
Specification:
Brand: SNOW JOE
Model: SJ623E
Product Color: Blue/Black
Product Dimension: 54.5 x 19 x 26 inches
Product Weight: 34 Pounds
Power Source: Corded Electric
Pros
Customers have optimum satisfaction from its use
It has a strong motor that boosts its performance
Auger is made from steel
Easily assembled
Saves your time with fast action
Cons
Wheels may be too small
Works better on dry snow than on wet snow
2
EGO Power+ SNT2102 21-Inch 56-Volt Cordless Snow Blower
EGO has been around for about twenty years, and the brand has never disappointed in the production of excellent performing appliances; they lead other brands as the market-leading makers of cordless electric snow blowers. The company spent ten years developing this snow blower series to give you a snow blower not limited by the length of the cord during use and still performing as high as a gas-powered snow blower.
This cordless snow blower serves as much as any corded electric snow blower while still maintaining the no noise, no fuss, and no fumes standard of electric snow blowers. The EGO brand stays in vogue and has kept evolving with your satisfaction as the base of their drive, and the EGO Power+ SNT2102 proved that goal on several levels.
The Power+ SNT2102 is powered with Two Ego power of 56 Volt batteries to give you a peak of power technology like no other. The motor of this model is brushless and still provides you with very high efficiency; it can clear snow of about 21 inches in width and 8 inches deep of 10 car driveway.
The EGO power+ does not move the snow slowly; it works with power and delivers excellent results as it can throw snow at a 35-feet distance. You do not have to drag a rope or anything to kick start this; all you have and need is a push button, and your snow blower gears to life and starts working.
To avoid accidents and other hazards that could happen while using electrical appliances, this model comes with variable speed control, and it helps to monitor and control the speed of the snow blower. Its handle can fold quickly, making it easy for you to store; it has the great advantage of being weather resistant, preventing you from thinking about wear and tear caused by weather changes.
Key Features:
Adjustable chute lever
35 inches of snow throwing distance
Clears 10 driveways
Powered by 2 EGO batteries
Specification:
Brand: EGO
Model: SNT2102
Product Color: Green/Grey/Black
Product Dimension: 45 x 35 x 22 inches
Product Weight: 25 Pounds
Power Source: Battery
Pros
It is suitable for wet snow
Batteries made from the advanced Lithium battery technology
Foldable handle for easy storage
It makes no noise during use
No maintenance cost required
Easily rechargeable after use
Cons
Using the machine on heavy snow can use up the battery faster
3
Toro 38381 Electric Snow Blower
Toro wants you to count on them when you need help with seemingly complex tasks, and we can tell you people have been able to count on them as a trusted brand for more than a century. Toro snow blowers and throwers lead other brands as number one in the United States and most trusted by the households for their age-long commitment for the people to count on them. The Toro 38381 can move up to 700 pounds of snow when it clears per minute, making it an efficient snow-blowing appliance.
For a snow blower with 15 Amp, it is the most suitable for your walkways, decks, driveways, patios, and any other residential areas. It can clear snows as wide as 18 inches and 12 inches deep which is a whole lot of snow to remove at a go.
To clean snow off your pavement efficiently, the Toro 38381 holds a power curve technology that prevents clogging when being used in this area. It also has an adjustable chute that can go 160 degrees and helps to control the snow blowing process.
The handle of this model can be lifted and is holds a full-bail ergonomic design, can be assembled with no hassle, not heavy, and has a zip deflector.
Key Features:
Lightweight
15 Amp electric motor
Zip deflector
Curved Rotor technology
Specification:
Brand: TORO
Model: 38381
Product Color: Black
Product Dimension: 36.2 x 18 x 47 inches
Product Weight: 24 pounds
Power Source: Corded Electric
Pros
It can throw snow up to 30 feet
Users can easily control the equipment while in use
Cleans surface while preventing clogging
It comes with 6 inches width wheels
It has two full years warranty
Cons
It is from plastic which could make it wear out easily
4
Earthwise SN74022 Electric Snow Blower
Earthwise is another brand committed to keeping the planet green and making products that would not harm the earth but help sustain and protect the environment. They want their products to satisfy all outdoor cleaning activities while reducing all carbon and harmful emissions.
The SN74022 is made to have power like a gas-powered snow blower due to a battery with 40 voltage that is easily rechargeable. It moves snow of 600 pounds per minute.
This model is a cordless snow blower with LED lights to help you blow snow at night. It can effortlessly clear snows that are 22 inches wide and 12 inches deep and 180 degree adjustable and rotating chute, which adds to its outstanding performance. Throwing snow at a distance of 30 feet is a remarkable feature of the Earthwise SN74022, and it makes it unique and distinctive.
Your neighbors do not have to groan in annoyance when using a snowblower, and this model prevents noise pollution by working on your snow quietly. Because of its ergonomic handle design, you can easily maneuver the snowblower and 6 inches rear wheels. To further add to its safety while in use, it comes with a bail wire and button for operations.
Key Features:
40 Voltage motor engine
Bright LED lights
600 pounds of snow moved per minute
180 degree adjustable and rotating chute
30 feet throwing distance
Specification:
Brand: EARTHWISE
Model: SN74022
Product Color: Black/Green
Product Dimension: 22.5 x 40.5 x 44.5 inches
Product Weight: 41.9 pounds
Power Source: Battery-powered
Pros
It has a high level of maneuverability
It is very lightweight and is easily carried and store
It keeps the environment clean by not emitting harmful fumes
It is operated silently
It is easily pushed on hard surfaces
It can be moved around easily with the cordless feature
Cons
It does not work well for wet snow
5
Greenworks 13 Amp 20-inch Electric Snowthrower
Greenworks focuses on making life easier for you, and this includes making a snow blower that makes the whole process easier to achieve. This model beat other competitors with the width it offers, clearing snows that are 20 inches wide and 10 inches deep. This snow blower model is an excellent alternative for snow blowers that use gas because it delivers a powerful snow clearing result that is sure to put smiles on your face.
Affordability is another great feature of this model and is relatively cheaper than most brands available in the market. The incredible output the GreenWorks 2600202 delivers is much bigger than the actual price they cost. Its chute is adjustable and can move about 180 degrees, making you manage the equipment and control it while clearing the snows off your patios, sidewalks, and driveways. It is built with dual LED lights for a brighter vision during night use, which is not common in other snow blowers.
Key Features:
13 amp motor engine
Corded snow blower
Foldable handle
20 feet snow throwing distance
Dual LED lights
Specification:
Brand: GREENWORKS
Model: 2600202
Product color: Black/Green
Product Dimension: 31 x 21.6 x 37 inches
Product Weight: 32 pounds
Power Source: Corded Electric
Pros
Works with no noise
It is easily maneuvered
No harmful emissions
It has a push start button
It has dual LED lights for better vision
Cons
Some customers complain it does not glide on concrete driveways
6
Hattomen Electric Snow Blower
Hattomen is another brand that has been around for quite a while. Their products do not fall short of expectations; with a 1600-watt electric motor engine, the Hattomen corded electric snow blower delivers massive performance and is once again adequate as an alternative for gas-powered snow blowers. It clears your walkways 18 inches wide and 7 inches deep to help you cover a large area at a go, enabling you to save clearing time.
Its chute is adjustable to help you manage your snow blowing and throwing activity and rotate 180 degrees. This corded electric snow blower can be assembled with so much ease and can be transported easily due to it being lightweight; its handle can be easily lifted and is a full-bail ergonomic.
The Hattomen electric snow blower's great qualities include its 13 Amp engine and the auger made from steel with blades. All these snow blower features allow it to move snow of 500 pounds with each one stroke movement while throwing the snow at a distance of 13 feet.
Key Features:
Auger steel with blades
Powered by 13 Amp and 1600 Wattage
Adjustable 180 degrees rotating chute
Zip deflector
Full-bail ergonomic handle
Specification:
Brand: HATTOMEN
Model: QI-JY-1600
Product Color: Black/Orange
Product Dimension: 43 x 19 x 33 inches
Product Weight: 27.2 Pounds
Power Source: Corded Electric
Pros
It comes with a discrete switch place to prevent accidents
Its blades are resistant to abrasion
Throw snow at 13 feet distance
It has no load speed
Easy to maneuver while in use
Cons
Not suitable for large driveways
7
Snow Joe iON18SB Electric Snow Blower
Another Snow Joe product that makes a list, the Ion18SB, is a massive powered and task-performing snow blower that boosts lightweight. With only weighing 32 pounds, the equipment works excellently well efficiently helping you clear your snow blocked and covered sidewalks, decks, and patios.
This Snow Joe electric snow blower is cordless, making it powered by a rechargeable battery; its battery is made with Lithium-Ion battery technology, a recent advancement in the battery world. The battery-powered snow blower can run for about 50 minutes after being fully charged, making it one of the best battery-powered snow blowers available for use.
The most lovable feature of this snow blower is its ability to work in silence, making it an excellent alternative for other noise-generating snow blowers. It can throw snow at 20 feet distance, and its chute can auto-rotate at 180 degrees. This snow blower clears snow that is 18 inches wide than the regular snow blower and at a depth level of 8 inches which saves you the stress of going over the same area multiple times.
Key Features:
Lightweight design made from rubber and steel
Lithium-Ion battery powered
180 degrees Auto-rotate chute
40 Volts powered
Specification:
Brand: SNOW JOE
Model: iON18SB
Product Color: Blue
Product Dimension: 50 x 20.5 x 28 inches
Product Weight: 32 Pounds
Power Source: Battery
Pros
It has 3 W LED light to help your vision during night clearing
The cordless feature makes it more mobile than a corded snowblower
Carries out its clearing duty quietly
Customers have said it works pretty fast
Cons
Cannot work in some areas
8
EGO Power+ SNT2400 Electric Snow Blower
Ego battery-powered snow blowers are known for combining two EGO 56V ARC Lithium batteries that provide it with the peak power it requires to clear snow effortlessly. The power of the EGO SNT2400 makes it clear an 18-car driveway with not so much difficulty, designed to clear snow that is 20 inches deep and 24 inches wide.
This snow blower is a powerful monster in the snow blowing business, beating many competitors to be a great choice; it can throw snow up the distance of 50 feet.
The EGO SNT2400 is a 2-stage snow blower and has a variable speed that makes it self-propel forward and back, and you can also control this speed with an auger control. As familiar with most EGO snow blowers, this model is also weather-resistant. That makes it suitable for all outdoor uses. You do not have to worry about premature wear and tear like in other products.
This model can help you handle severe snow conditions because it is made for heavy duties, coupled with four bright LED lights, you do not have to worry about lack of vision for your night snow clearing.
Key Features:
4 LED headlights
200-degree auto rotating chute
2 EGO 56V Lithium batteries
Self-propelled variable speed
Weather-resistant
Specification:
Brand: EGO
Model: SNT2400
Product Color: Black
Product Dimension: 49 X 26 X 45 inches
Product Weight: 154.7 pounds
Power Source: Battery
Pros
It can clear driveways of 18 cars
It has a five years warranty
The blower is made for challenging snow conditions
It comes with four bright LED lights for better night vision
It can throw snow at 50 feet distance
Cons
It is heavier than most snow blowers
Some customers have complained of battery life being low
Types of Electric Snow Blowers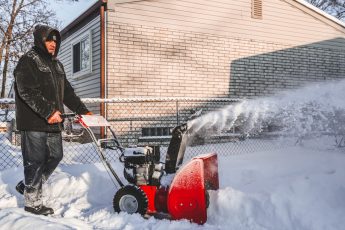 Electric snow blowers are of different types but with similar functions; an electric snow blower could be corded connected to a power source with a cord. The corded snow blowers have powerful motor engines that make them throw up 700 pounds of snow per minute of operations and are easily handled and maneuvered.
The second type of electric snow blowers is cordless or battery-powered, which after a specific time of usage requires a re-charge; they have improved over the years using Lithium-Ion battery technology. The work degree of the corded snow blower and the cordless electric snow blower is not exactly different.
The latest advancement to electric snow blowers is the Electric power shovel that comes in handy while clearing patios and decks that our regular snow blowers would not fit in. They remove the snow like a broom and work way better than the hand shovels.
Providing you with a piece of better knowledge in your journey of choosing a well-performing electric snow blower is what we are here to do, and we have earlier reviewed a list of products that would help speed up this decision-making process while still choosing the right.
Check out all the guides, FAQs, and more on landscaping HERE.
Frequently Asked Questions (FAQs)
Are electric snow blowers any good?
With the world growing ever more mindful of how our activities affect our ecological environment, several technology companies are also looking at producing equipment that would not cause further harm and increase the already high global warming. There is no news about making electric cars as ways to help with these emissions, so electric snow blowers will not sound strange.
Electric snow blowers work just as fine as gas-powered snow blowers and are available in single-stage, 2-stage, 3-stage, and power shovel snow throwers. Electric snow blowers are suitable in many ways; the essential good they give is going green for the environment's safety; there is simply no need for gas which in turn reduces gas fees.
They also help reduce fire outbreaks as common with the gas-powered snow blowers and require fewer maintenance costs from the changing of oils and numerous repairs and services. Electric snow blowers make less noise when you use them, which aids in preventing noise pollution; moving them is also very easy as they often are lightweight. Electric snow blowers are a perfect use for snow clearing.
Is it better to have a gas or electric snow blower?
Wondering about what type of snow blower to go with between these two can be such a headache; however, when you understand what you need the snow blower for, it would help you select the one that best suits your need. Getting an electric snow blower would help save money if that is what you need from the electric snow blower; it also fits into being extremely eco-friendly than the gas snow blower.
Electric snow blowers also help you to clean tighter spaces due to their smaller size and being lightweight. Using a corded electric snow blower limits how far you can go. The cord has to stay connected to a power source during use; the battery-powered snow blowers can move and work while being disconnected.
Gas-powered snow blowers are best known for being heavy-duty and doing a more excellent job clearing the snow. If you need powerful equipment to help you clean your driveways effectively, the gas snow blowers are the best for the job.
Using an electric snow blower on wet snow can cause the equipment to overheat and get damaged, but a gas snow blower works on these perfectly. Older gas snow blowers start working when their strings are pulled but, electric snow blowers use a push start button to get working. Due to its broader dimensions, a gas snow blower can clear snows of 45 inches in width and depth of 23.5 depth, which is twice the level of electric snow blowers.
Moreover, both the electric and gas snow blowers both seek to ease your pain in snow clearing and save time spent on shoveling snow.
Are 3 stage snow blowers worth it?
The 3-stage snow blowers are a recent development to snow blowing equipment, and they seem to work pretty well. It has the same stages as a 2-stage snow blower which includes gathering and breaking the snow, and then secondly, snow is directed to the propeller that ends up disposing of the snow from the chute.
The third stage that makes this a slight difference is the addition of the accelerator, which allows the propeller to move the snow more quickly than it could in the 2-stage snow blower. The 3-stage snow blower adds power to your snow clearing, makes it more focused, and adds more speed.
Due to its large size and added features, it often requires the attention of a professional, and it would need to take to a care shop to monitor its function and prevent a breakdown.
Which is better, Ariens or Husqvarna?
Companies like Ariens and Husqvarna, highly equipped with excellent products, are trusted by most customers to help clear snow from their driveways and walkways. They both provide various products with unique features that satisfy the large variety of wants by customers and are known for making great gas-powered snow blowers.
What features does Ariens have?
The Ariens brand has a wide range of product models available in multiple sizes and prices. These ranges create an avenue for customers to buy according to their budgets without necessarily breaking the bank; they try to an Ariens for everyone.
It could cause some kind of headache when it comes to storing equipment, but this brand makes snow blowers compact and suitable for storage. However, the Ariens brand has customers complaining about the clutches taking time to get used to and the belts needing regular adjustment, which causes some dissatisfaction.
What features does Husqvarna have?
The Husqvarna did not lose on having large product types available at many different prices; these snow blowers were known for having more enormous housing capabilities than Ariens. It removes a greater snow level, but the compact design is only limited to their professional snow blowers. The throwing distance of the Husqvarna is said to be limited.
Both brands have a long list of products that would cater to the different needs of each customer because everyone has a unique feature they need and love in a snow blower.
Best Electric Snow Blowers – Conclusion
Snow can be lovely when the flakes start to drop, but a pile of it could cause a lot of delays and restrictions like blocking driveways, patios, and walkways. With the long list of available electric snow blowers, we have carefully selected the best-performing electric snow blowers that are sure to give you optimum satisfaction.
Do tell us about your experience with the snow blower, in the comments section below. Check out our website for more content like this.
Check out posts on: